If there's one thing I don't mind about winter (I'm a summer girl at heart), it's the decadent desserts that are made through the season; chocolate puddings, hot chocolates, apple pie with custard… the list goes on. So, as soon as the weather started to take a chillier turn, there was only one thing I felt like – apple crumble. But not just any apple crumble, a smaller, for-one apple crumble.
Apple crumble is the ultimate winter dessert and I am so happy to share my newest recipe with you. These are so delicious warm, especially right out of the oven. A great treat for entertaining or for those chilly nights by the fire (for one). Happy baking xx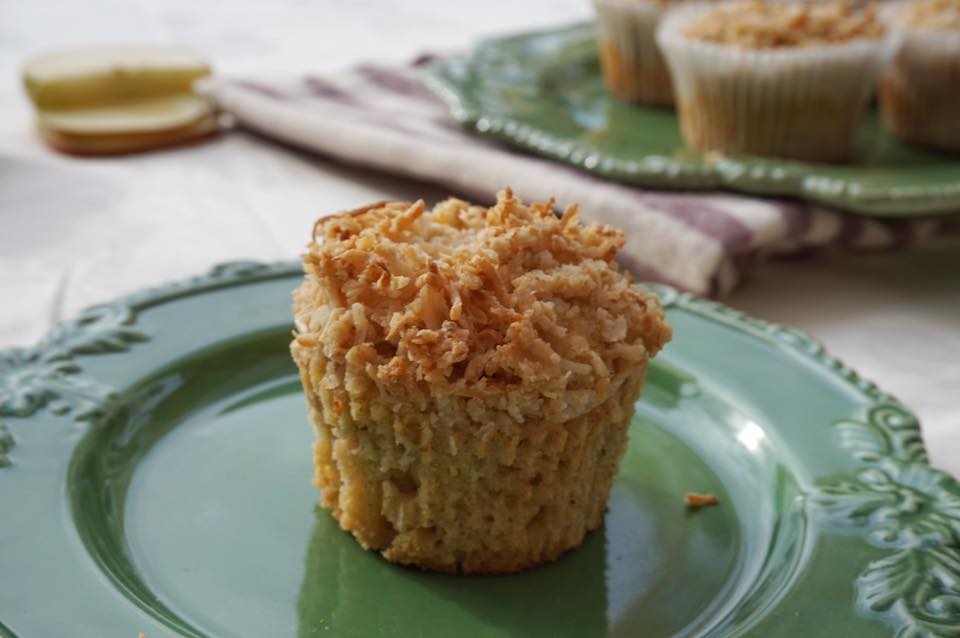 Ingredients
Muffins:
3 Granny Smith apples, peeled and diced
1  1/2 cup spelt flour
1/3 cup oats
2 tsp baking powder
1 tsp baking soda
1 tsp cinnamon
1 tsp nutmeg
Pinch of salt
1/2 cup rice malt syrup
1 tsp vanilla essence
3 tbls coconut oil
2 eggs
1/3 cup milk
Crumble:
1/2 cup rolled oats
1/2 cup shredded coconut
2 tbls rice malt syrup
2 tbls coconut oil
Method
For crumble:
In a small bowl combine oats and coconut. Add rice malt syrup and coconut oil and then, using your fingers, rub the coconut oil and rice malt syrup through the oats and coconut. This will be a little sticky. Set aside in the fridge while you make the muffins
For muffins:
Preheat oven to 190°C and place cupcake cases in muffin baking tray.
In a large bowl, combine flour, oats, baking powder, baking soda, cinnamon, nutmeg and salt.
In a separate bowl, whisk together rice malt syrup, melted coconut oil, eggs and milk until well combined.
Add the diced apples to the dry ingredients and make a well in the centre. Pour in wet ingredients and fold lightly.
Pour mixture into cupcake cases and sprinkle crumble over the top until each muffin is covered in crumble. Place in oven for 20 – 25 minutes and let cool. Enjoy!