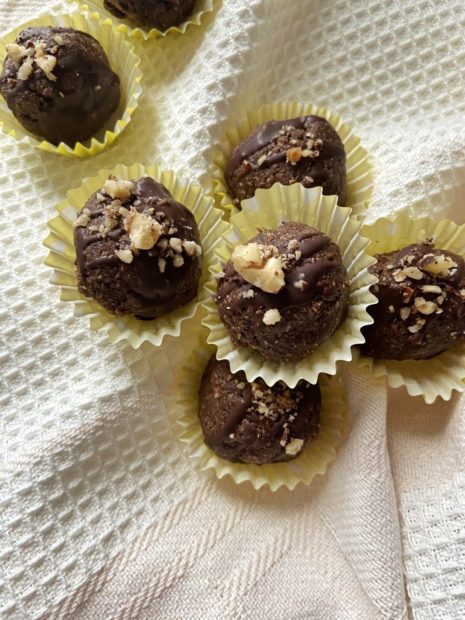 I couldn't be more excited to share this easy Ferrero Rocher recipe made clean! It's no secret I love recreating indulgent chocolate treats (TWIX and Snickers, anyone?) and Ferrero Rochers is one I have wanted to make for a long, long time.
I have included 'easy' in the title of this recipe for a reason – it's extremely simple to make these. No matter your baking experience you can easily whip these up and enjoy them within a matter of minutes. With a clean 'notella' mix and a roasted hazelnut centre, you'll love these clean Ferrero Rochers just as much as the real thing.
Happy baking! X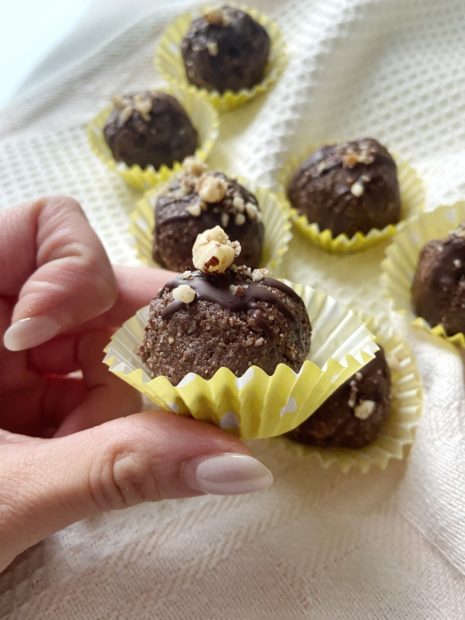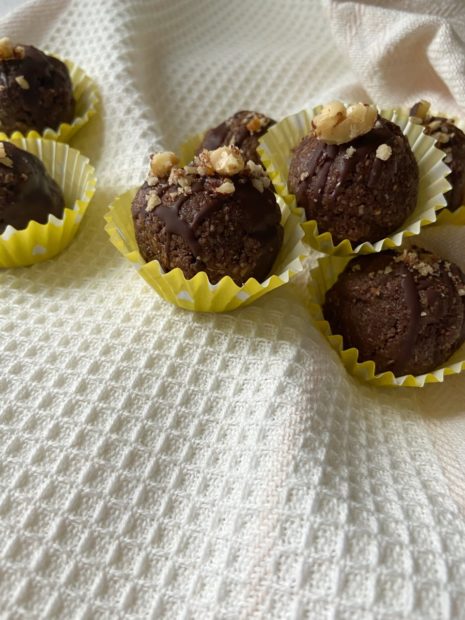 Ingredients
2 cups walnuts
2 cups desiccated coconut
3/4 cup choc hazlenut spread (use my Notella recipe OR Pana Chocolate alternative)
1 tbsp cacao
2 tbsp rice malt syrup
20 – 25 roasted hazelnuts, skin off
70g dark chocolate, melted
50g crushed hazelnuts
20 mini cupcake cases (optional)
Method
In a processor combine walnuts, coconut, choc hazelnut spread, cacao, rice malt syrup and salt until combined well. The mixture should be a bit sticky and easy to mould.
Hold one hazelnut and mould around one tablespoon of mixture around the hazelnut until a circle is formed. Repeat until mixture is complete.
Place the Ferrero Rocher balls in mini cupcake cases (optional) and in the freezer for 10-15 minutes.
Remove from freezer, drizzle dark chocolate over each ball and sprinkle crushed hazelnuts. Place in the fridge and enjoy!
This recipe makes 20 Ferrero Rocher balls.