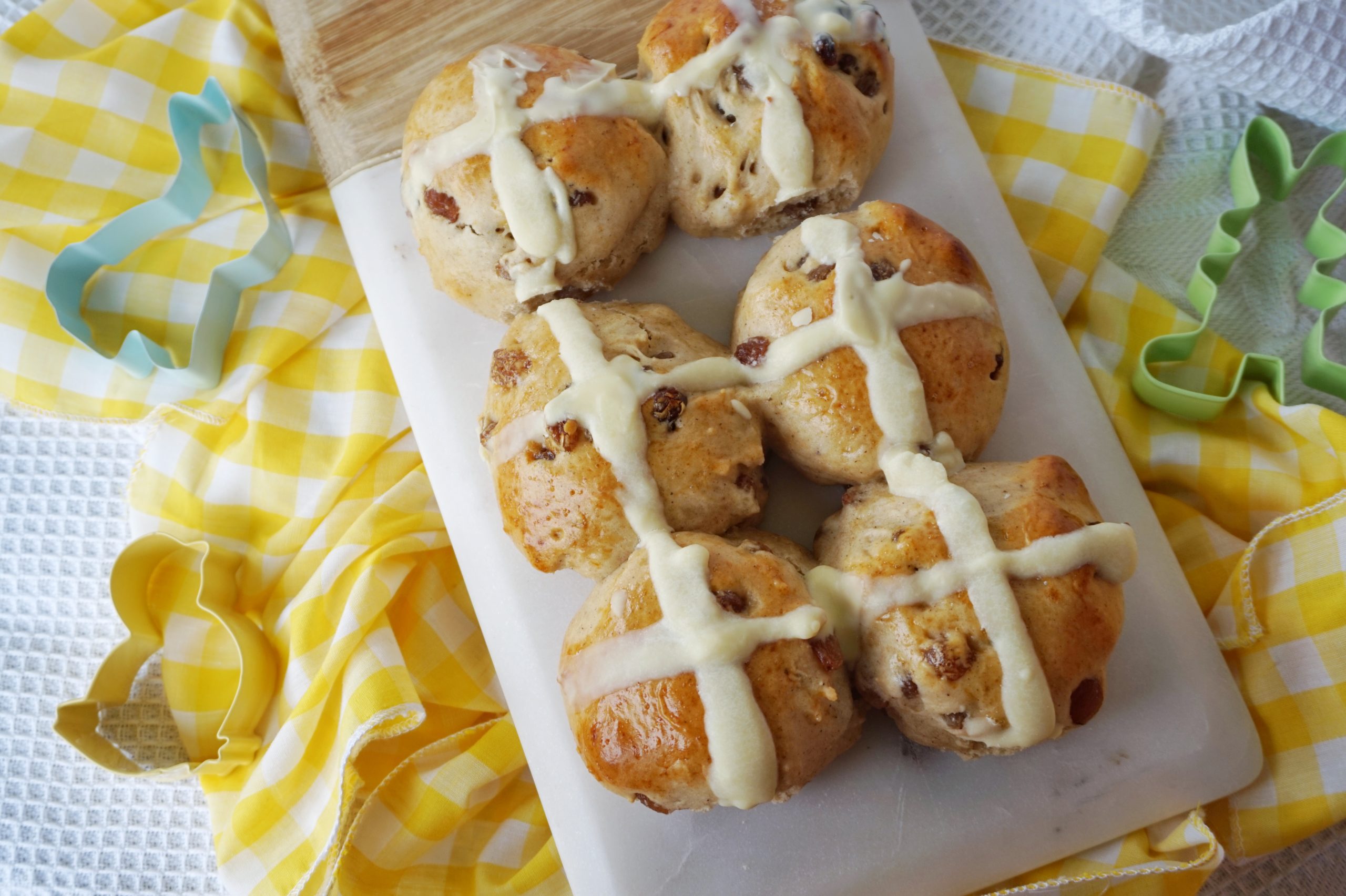 I'm so excited to share my new 6 Ingredient Hot Cross Buns. It's no secret Easter is going to be very different for all of us, but one of the perks of being home more is having more time to bake. I know for me it's been a great distraction from all of the news reports. You can follow a recipe, focus on all the quantities and techniques, put some music on and have some fun with it!
My 6 Ingredient Hot Cross Buns are easy, quick and don't have any yeast or refined sugars. I know there's a shortage of ingredients in the shops, so I've suggested alternatives so you can use what you have around the house. These 6 Ingredient Hot Cross Buns are so delicious, filled with sultanas and spices, you'll love them just as much as the real thing.
Happy baking and happy Easter x
Ingredients
2 cups spelt flour + an extra 2 cups for dusting and to firm up dough (alternative is plain, self raising, wholemeal)
4 tsp baking powder (if you use self raising flour, you don't need this)
Pinch of salt
1 tsp cinnamon
1 tsp nutmeg
1 tsp mixed spice (if you only have one or two of these spices in the house, just double or triple the quantity)
½ cup rice malt syrup (alternative is maple syrup or honey)
⅔ cup almond milk (use any milk you have in the house)
5 tbsp vegetable oil (alternative is olive oil, grape seed oil or melted coconut oil)
1 egg (optional for glaze)
100g sultanas (alternative is dark chocolate chips, currants or dried apricots)
50g melted sugar free white chocolate (alternative is melted dark chocolate)
Method
Preheat oven to 180C/375F and line a baking tray with baking paper
In a large bowl combine 2 cups flour, salt, spices and baking powder
In a separate bowl mix rice malt syrup, vegetable oil and almond milk
Make a well in the centre of dry ingredients, add wet mixture and fold until a dough is formed. You may need to add more flour if the mixture is too wet. The dough should feel soft but not too sticky. On a clean bench, dust with flour and place your dough over the flour and knead through sultanas for 2 minutes. Continue to add flour as you need if the dough is still quite sticky.
Grab a small amount of flour in your hands and pick up a small handful of dough and roll into a ball. Place onto the tray repeat. Place the hot cross buns very close together with a small gap in between so when they rise they are connected.
Quickly beat an egg and brush over hot cross buns.
Place in the oven for 20 – 25 minutes or until browned. Let cool completely.
With your melted chocolate use a teaspoon to slowly draw a cross on each bun
When your chocolate has set, slice the hot cross bun in two and toast with butter, enjoy!