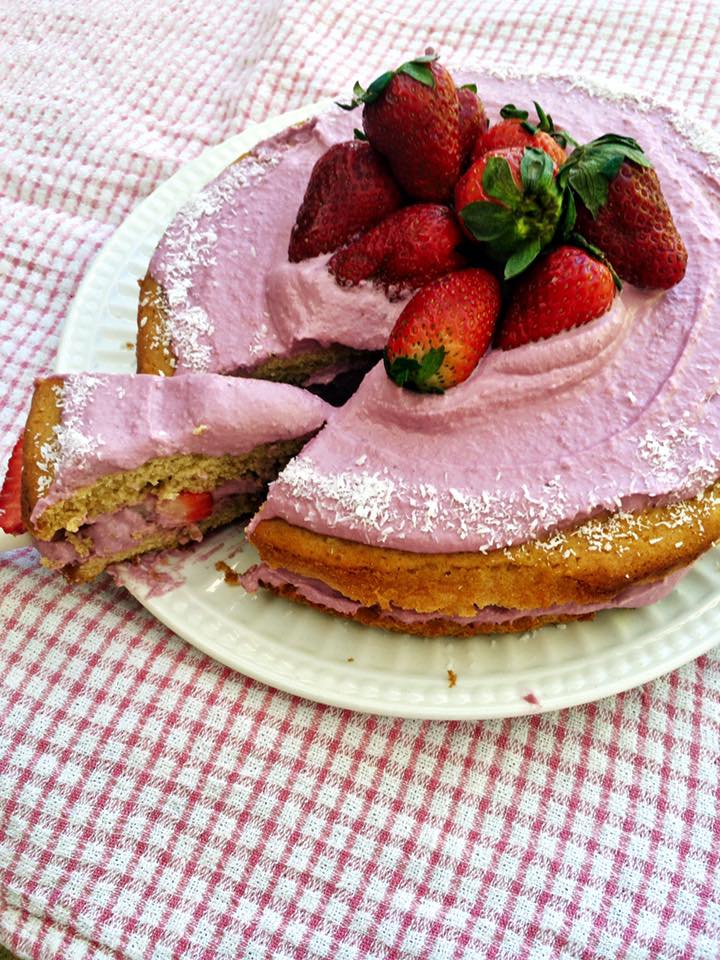 Years and years ago, I once worked for a bakery who made the most delicious strawberry sponge cakes (all sponge cakes to be exact). It was the standard cake at all of my family's birthdays – not only for its light and fluffy texture – but also for the lovely presentation that could never go wrong. The pink icing against the natural sponge filled with cream – what's not to love?
These sponge cakes were my inspiration behind this clean strawberry sponge cake. Its beautiful texture is a delicious match with the fluffy pink cashew cream (no one would know the difference). The sponge has bursts of sweetness with chopped dates throughout the mixture and sliced strawberries over the cream. Perfect for birthdays, dinner parties, or if you just feel like indulging a little. Enjoy! Xx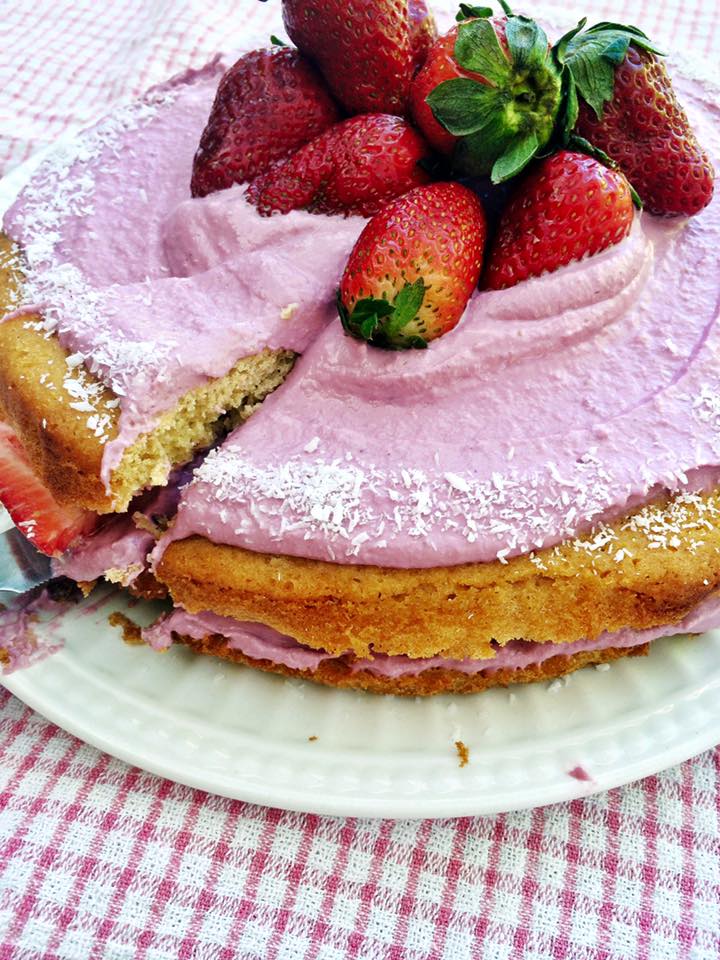 INGREDIENTS
Sponge cake:
6 heaped tbls melted coconut oil
1/2 cup rice malt syrup
10 pitted dates, soaked and chopped
1  2/3 cup wholewheat or spelt flour (or flour of choice)
2 tsp baking powder
1 tsp baking soda
1 tsp vanilla bean paste
3 eggs
1 cup almond milk
Strawberry cream:
1 1/3 cup soaked cashews
1/3 cup rice malt syrup
1/2 cup shredded coconut
1 cup chopped strawberries
Drop of pink food colouring
An extra 2 punnets of strawberries for decoration
METHOD
For cake:
Preheat oven to 180°C (not fan forced). Line a circular baking pan with baking paper.
In an electric mixer pour remaining coconut oil, rice malt syrup and vanilla and mix until creamy.  Add one egg at a time to the mixture until combined.
In a large bowl sift flour, baking soda and baking powder. Add liquid mixture and dates and fold through softly.
Add one cup of milk to the cake mixture and beat lightly before placing in circular pan. Place in the oven for 40 minutes. Let cool while you make cashew cream.
For cream:
Add all ingredients to blender and blend until well combined. You may need to add 1/3 cup of water if cashews are not blending. You can also add extra strawberries if you prefer a sweeter taste.
For decoration:
Cut the sponge cake in half carefully using a knife and then put the top half aside. Spread half the cream over the bottom half of the cake and place chopped strawberries over the top. Add the top half to the bottom half with the cream and spread the remaining cream evenly on top. Place strawberries over the top in the middle and sprinkle coconut around the edge of the cake. Enjoy!