So it's no secret that I LOVE cake. I will use any excuse for cake, and when I know something is only sweetened with bananas and dates, that's all the convincing I need before I delve in and devour the entire thing. I'm not saying you should eat a whole cake, however you will allow yourself an extra piece (or two.. or three) once you try this yummy banana & chocolate cake.
Pretty on the outside and delicious on the inside – this cake is made up of 3 whole mashed bananas, meaning the consistency is moist and almost refreshing (can cake be refreshing? Yes, yes it can.) Did I mention you no longer have to worry about sticky fingers on your phone screen when you make my recipes? You can download my eBook for FREE by clicking on the 'Subscribe' tab above. Enjoy and happy baking xx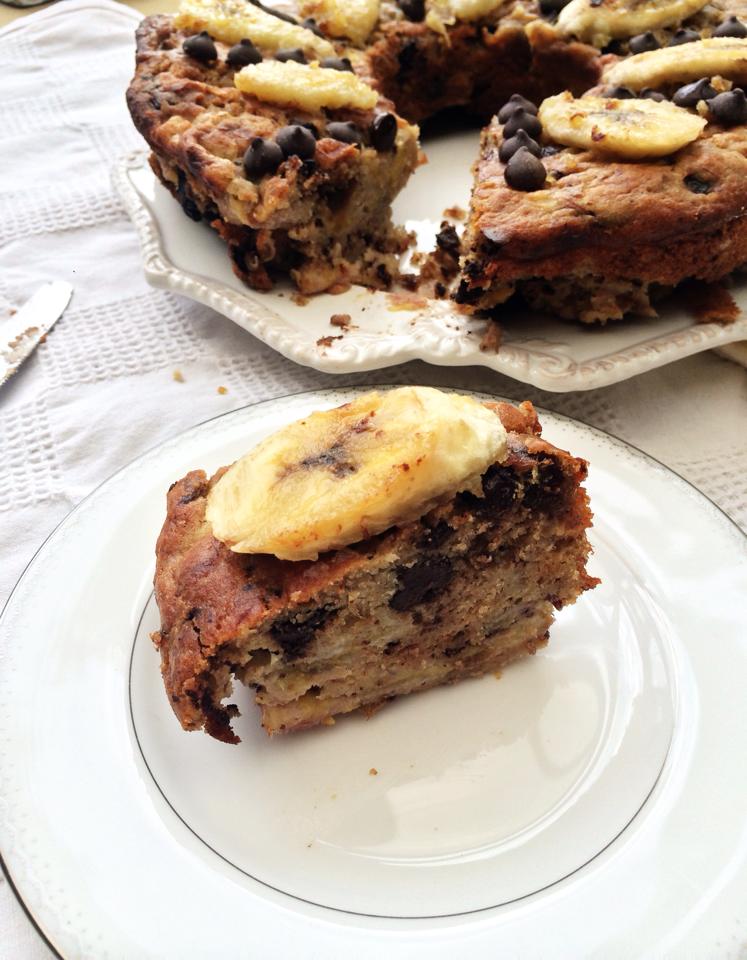 INGREDIENTS
3 large mashed bananas + 1 extra for decoration
1/2 cup melted coconut oil
18 pitted dates, soaked and chopped
1  2/3 cup wholewheat or spelt flour (or flour of choice)
2 tsp baking powder
1 tsp baking soda
1 tsp vanilla bean paste
3 eggs
Pinch of salt
1 cup almond milk
90% dark chocolate chopped
METHOD
Preheat oven to 180°C (not fan forced). Line a circular baking pan with baking paper or spray with baking spray.
In an electric mixer pour coconut oil and vanilla and mix until creamy.  Add one egg at a time to the mixture until combined.
In a large bowl sift flour, salt, baking powder and baking soda. Add liquid mixture and dates and fold through softly.
Add one cup of milk to the cake mixture and beat lightly, then add the chocolate chunks and mix through. Place in the oven for 40 minutes
. Let cool before decorating with pan fried banana slices and dark chocolate.