Ah, summer fruits, how I have missed you so. Although I am very aware that I am not in the presence of the sunny season in Melbourne just yet, I wanted to create something fruity and delicious to serve after a hearty BBQ or a treat to enjoy while laying in the sun.
These Strawberry & Vanilla Slices have a moist, spongy texture enhanced by the smooth strawberry cream. Sweetened by my favourite ingredient, rice malt syrup, the punnet of strawberries (or more if you please) adds extra sweetness to the subtle vanilla flavour in the slice. My sister was appointed 'taste-tester' this afternoon and as she took her first bite, mouth still full of strawberry cream/spongy slice/strawberries, her initial reaction was 'these are not healthy!'
Beautifully presented and good for the body, there's no reason why you have to say 'no' to this dessert. Bring them to the next gathering with friends and watch them be fooled by this delicious little dessert!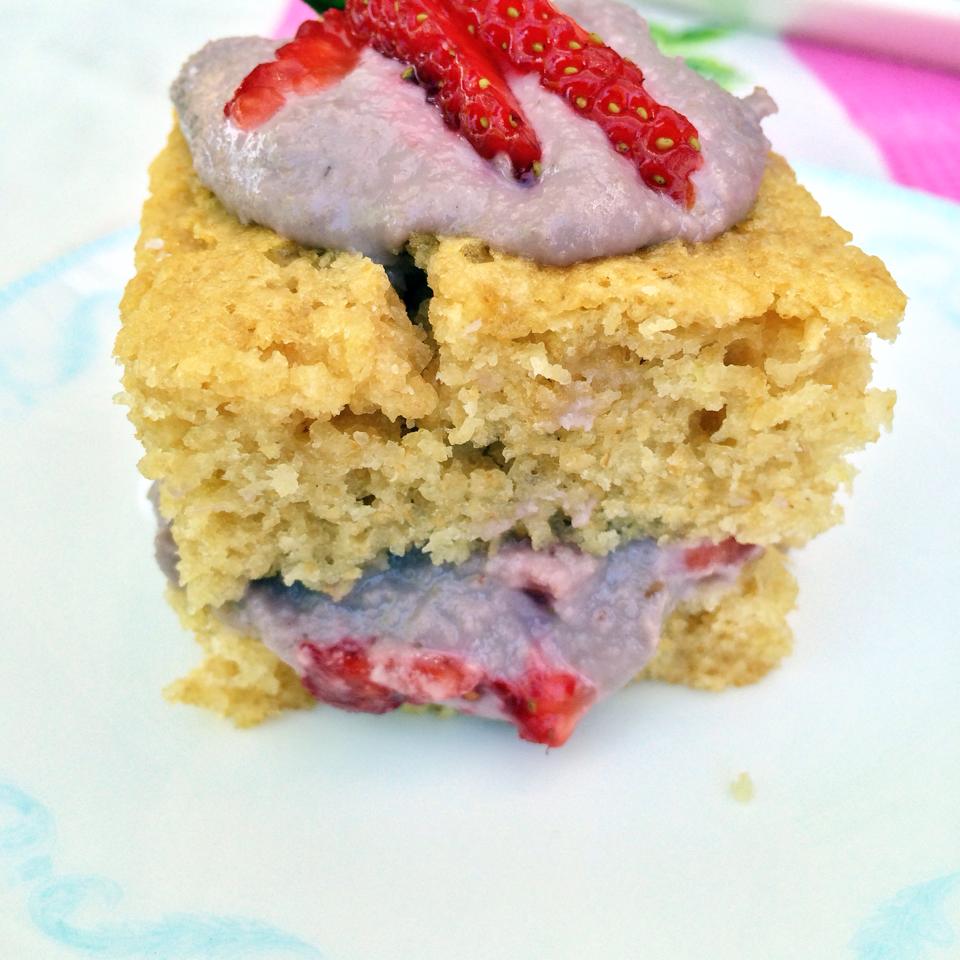 INGREDIENTS
Slice:
2 cups wholemeal flour
3 tsp baking powder
1 tsp baking soda
1 cup rice malt syrup
1.5 tbls coconut oil
1 cup almond milk
2 eggs
1 tsp vanilla bean paste
Strawberry Cream:
1 cup soaked cashews
3/4 cup rice malt syrup
1 punnet strawberries
1 cup shredded coconut
A dash of milk
METHOD
For slice:
Preheat oven to 180°C and line a rectangular baking pan with baking paper
In a large bowl, mix all dry ingredients lightly
In a separate large bowl, combine all the wet ingredients together  and add to dry ingredients. Mix very lightly – do not over mix
Pour mixture into baking pan and place in oven for 25 minutes. Let it cool while you prepare the cream
For cream:
Soak cashews for 10-15 minutes in hot water, drain and place in blender
Blend cashews with all ingredients until a creamy texture is formed. You may need to use more or less of coconut depending on the consistency. I usually don't measure it and add extra if I want the cream to be thicker.
For decoration:
Slice strawberries and put aside
Cut each slice in half and spoon the strawberry cream in the middle and sprinkle sliced strawberries over the cream and place the slice lid on top
Using a teaspoon, place a drop of strawberry cream over each slice with a strawberry to decorate and enjoy!!