These images were quite a struggle to take. Firstly, I made 2 batches of these mint chocolate cookie dough balls and they disappeared in record time before I had a chance to style them beautifully for the blog. Once my sister and my friend and I got our hands on these, it was safe to say we weren't going to stop until not even one was left visible on the plate. Need I say more?
Batch number 3 was a little more successful and I managed to capture a few photos before stuffing each one into my mouth immediately. Peppermint and chocolate has always been a favourite combination of mine, but the soft yet firm minty texture with a chocolate chip crunch makes these incredibly irresistible and I urge you to try them now! They may not even make it into the freezer to set – you have been warned. Enjoy 😉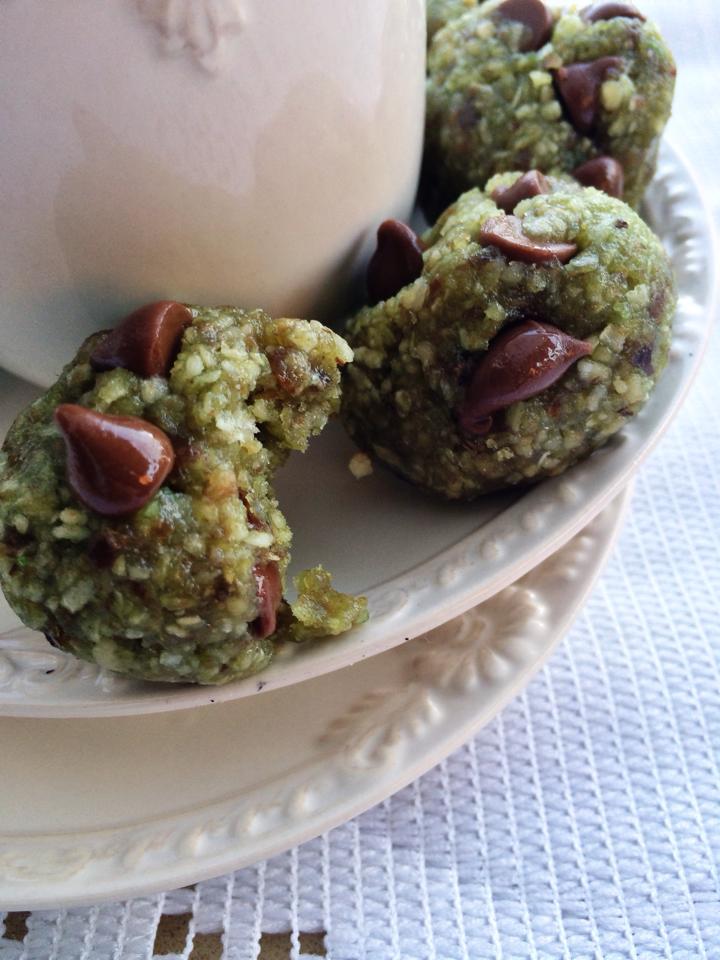 INGREDIENTS
1 cup walnuts
7 pitted dates
1 cup coconut
2 tsp peppermint essence
2 tbls rice malt syrup
Dark chocolate chips or vegan chocolate chips
A drop of green food colouring
METHOD
Soak dates in hot water for 2-3 minutes.
Process walnuts until fine and then add dates.  Add remaining ingredients except chocolate chips and process well until mixture sticks together.
Add chocolate chips and stir through mixture lightly.
Spray a small baking pan with baking spray and roll mixture evenly into round balls with your hands. Place in the freezer for around 1-2 hours and enjoy! Store in fridge to keep them fresh.
*serves 12