Mmm Cherry Ripe – the perfect winter chocolate. I've been suggested to create this a few times and finally decided to give it a go. As I have mentioned previously (and in my About Me), I have quite an unhealthy obsession with chocolate.  Cherry Ripe is one of those bars that when you begin with one bite you struggle to say no and this usually leads to a guilty sensation which sounds a little like "oh my gosh what have I done?!"
This recipe is officially my new favourite. You can eat as much as you please and these slices are surprisingly light yet still hit the chocolate-craving spot.  The fudgy texture is perfect with the chocolate topping and tastes scarily similar to a Cherry Ripe bar (though I'm not complaining). Try for yourself!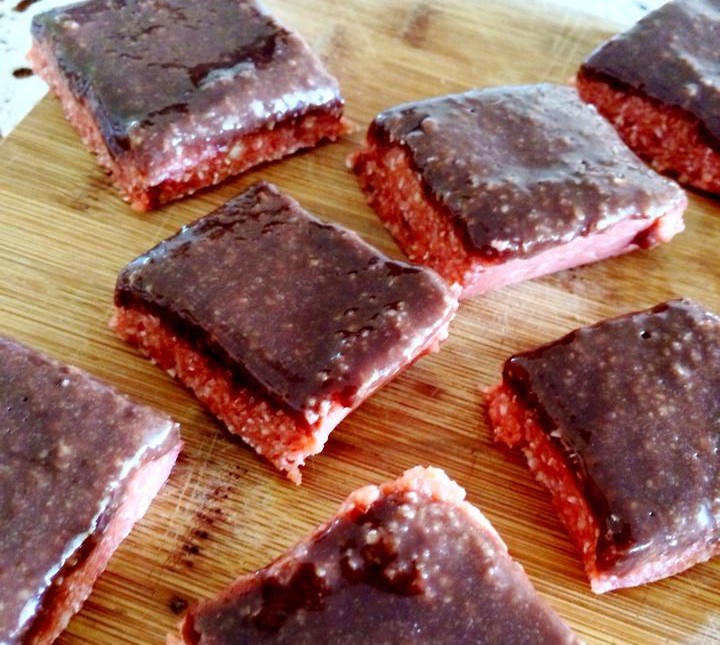 INGREDIENTS
Fudge:                                                                           Chocolate Topping:
1 cup almonds                                                             ½ cup shredded coconut
10 pitted dates                                                            2 tbls rice malt syrup
2 cups shredded coconut                                          1 heaped tsp cacao
1/3 cup rice malt syrup                                              3 tbls water
½ cup cherries
A few drops red food colouring
METHOD:
For fudge base:
Soak dates in hot water for 2-3 minutes.
Process almonds until fine and then add dates.  Add remaining ingredients and process thoroughly until mixture sticks together.
Spray a small baking pan with baking spray and place mixture in while pressing evenly using your hands. If mixture is sticky run your hands under hot water to press down mixture and place in the freezer while you prepare chocolate topping.
For chocolate topping:
Process coconut with rice malt syrup until very fine. Add remaining ingredients and process until coconut is not visible in the mixture.
Pour over the cherry ripe fudge evenly and pop in the freezer for 2-3 hours. Yum!