OK, I know I always say this but seriously, everyone needs to get out their blender and make this Nutella NOW! I have tried countless recipes from numerous sources for a clean Nutella and always find myself disappointed. I've also experimented with my own Nutella recipes and they've also been unsuccessful, but this… THIS is Nutella. Trust me. I had almost given up on this creation as it took months of hard work (OK, a little exaggeration), but I am honestly startled by the result. This will be the closest taste to Nutella you could ever possibly get without actually eating Nutella.  It's chocolate. It's hazelnut. And it's spreadable on whatever you like. You can eat it with a spoon, on your bread, or on a pizza. TRY IT NOW!
Sorry to bore you with my excitement, back to the pizza… this recipe is for a Nutella pizza with strawberries, need I say more? There shall be no need to order this at a restaurant when you can eat it GUILT FREE in the comfort of your own home – enjoy!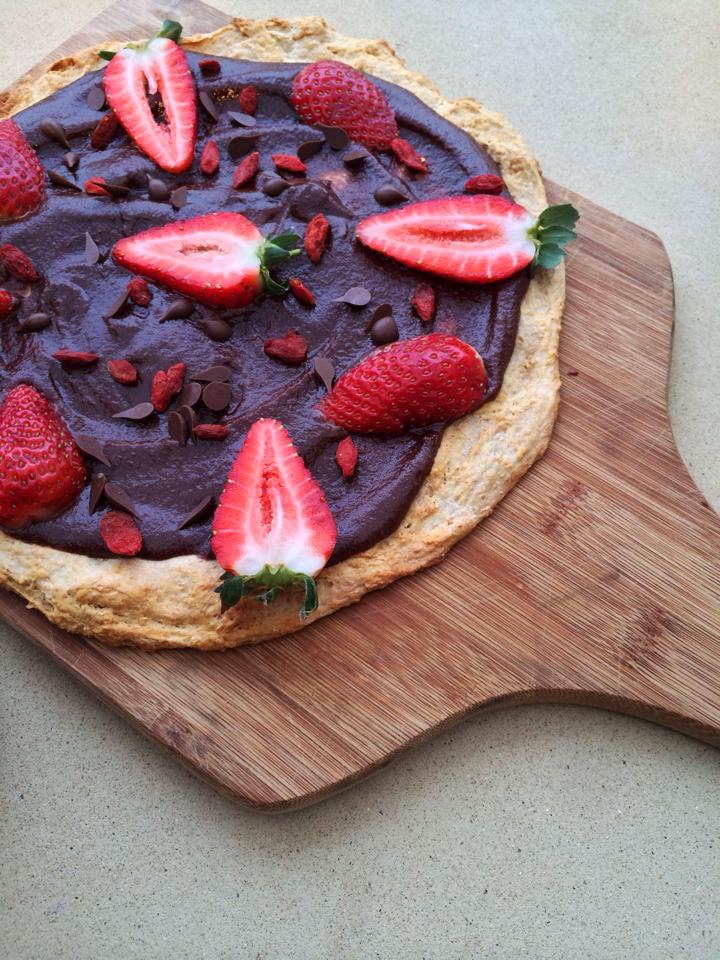 INGREDIENTS
Pizza                                                                                                   Nutella
2 cups wholemeal or whole wheat flour                             1 cup pitted dates
3 tbls olive oil or coconut oil                                                  1/3 cup coconut oil
3 tbls wine (optional)                                                                 1/3 cup rice malt syrup
1 egg                                                                                                   ¼ – ½ cup water
½ cup almond milk                                                                     3 – 4 tbls hazelnut spread
½ cup water                                                                                   2 tbls cacao
For decoration:
Strawberries
Goji Berries
Vegan chocolate chips
METHOD
For pizza:
Preheat oven to 200°C  and spread oil of choice onto a flat pizza tray
Combine all ingredients lightly in a bowl while folding the dough.
When the dough is firm but soft, dip your hands in hot water and spread out the dough on the pizza tray into a circle shape and pop in the oven for around 15 minutes.
For Nutella
Soak dates in hot water for 2-3 minutes and pop in the blender with ¼ cup of the water used to soak them.
Blend all other ingredients with the dates until a paste is formed. If you prefer more hazelnut taste – add more hazelnut spread. And if Nutella is too thick add some water.
Spread over the pizza and decorate with strawberries, goji berries and chocolate chips. My goodness this is good. Enjoy!