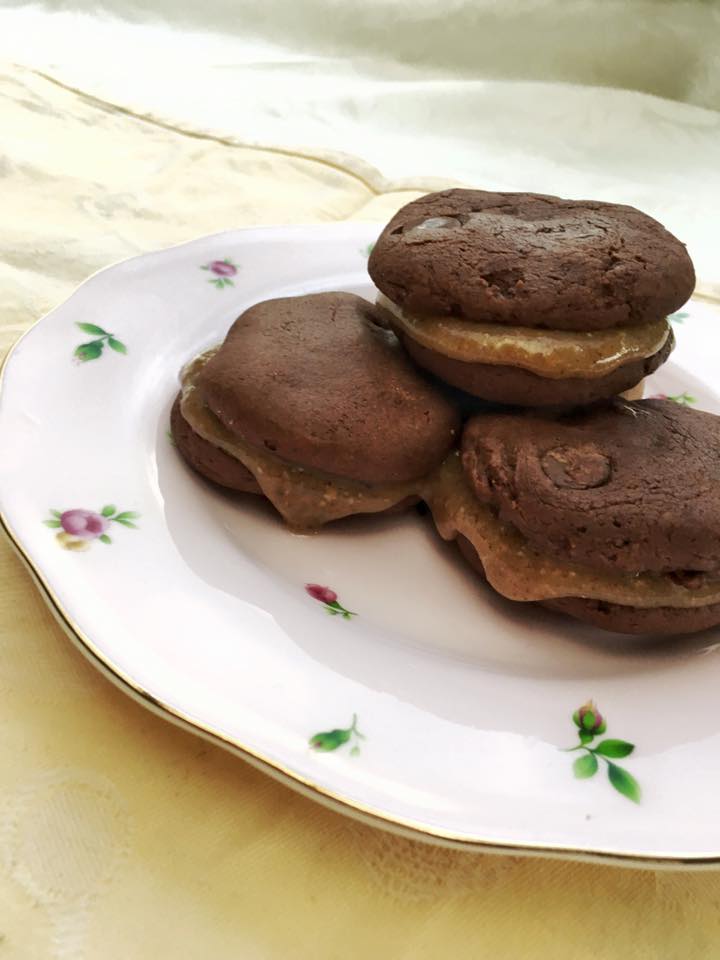 I was craving something sweet but I couldn't put my finger on it… something chocolatey… but different to what I normally make. I have two favourite people who give me true criticisms of my recipes; my dad and brother. These guys don't muck around – they eat kit kats, cadburys – you name it. If they want to eat my treats – then I have created something worth putting on this blog!
These Clean Salted Caramel Double Choc Cookie Sandwiches were approved by the brother and father (success!) and are so, so delicious! The gooey, salty caramel oozes out when you bite into the soft chocolate cookie – and it tastes like it should be so 'bad.' This is my new favourite. Enjoy!!
Ingredients
For double choc cookies:
2 cups spelt flour
3/4 cup cacao powder
4 tsp baking powder
pinch of salt
1/2 cup rice malt syrup
1/2 cup coconut oil
1 egg
1 tsp vanilla essence
1/4 cup almond milk (or milk of choice)
70% dark chocolate chips or chopped dark chocolate
For caramel:
1/2 cup rice malt syrup
1/2 cup coconut oil
1/2 cup almond butter
pinch of salt
Method:
For double choc cookies:
Preheat oven to 190°C and line baking tray.
In a mixer or large bowl, combine coconut oil and rice malt syrup, and then add almond milk, egg and vanilla.
In a separate large bowl mix flour, cacao, baking powder and salt together lightly
Add liquid mixture and stir lightly to a cookie-dough texture. Roll mixture into small balls and place onto baking tray while pressing with a fork on each cookie to form an circle shape.
Bake for 10 minutes and let cool while you prepare the caramel
For caramel:
Blend all ingredients until a thick and sticky texture is formed
Set aside for 10 minutes in the fridge while cookies continue to cool. Once cookies are completely cool, add a spoonful of caramel over the bottom of one cookie and spread evenly. Place another cookie over the top with the bottom covering the caramel. Repeat this for each cookie until each cookie is in a cookie sandwich. Store in fridge and enjoy!