A few days ago it was International Nutella Day, and it was a totally a coincidence that I felt like making Nutella a day before the special occasion. Needless to say, I was pleased I could celebrate the day in foodie style with some clean nutella drop biscuits.
Nutella is extremely easy to make – you will need a processor, hazelnut meal (from The Source..  buy it here), cacao butter, cacao powder and a bit of rice malt syrup. The first step is super easy: process the hazelnut meal until it becomes a butter texture – this may take a few minutes of stopping and starting the processor and mixing the hazelnut meal in between. But it will get there, and when it does, simply mix in the rest of the ingredients and you're ready!
These biscuits are really yummy and super easy – and the best part? You will have some leftover Nutella to pop in a jar – or spoon out accordingly (we've all been there). Hope you enjoy! Happy baking xx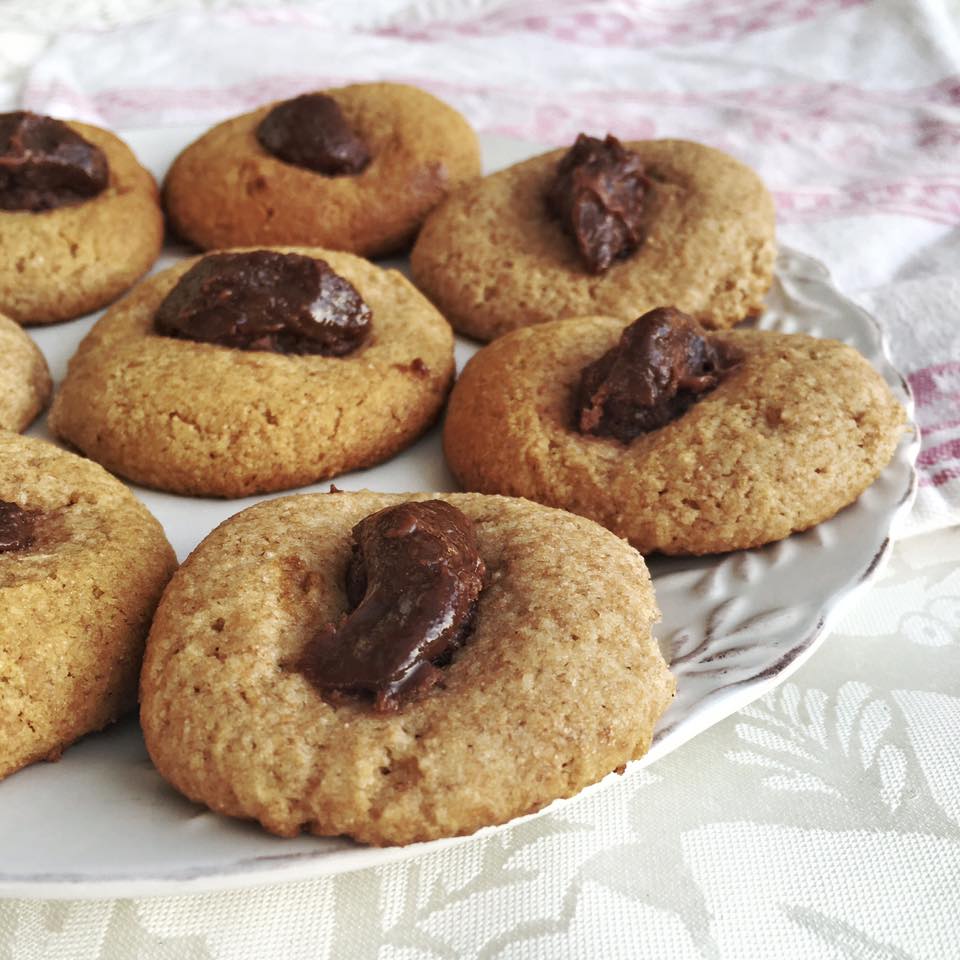 INGREDIENTS
For Nutella:
3/4 cup hazelnut butter (see above)
1/2 cup rice malt syrup
1 tsp coconut oil (melted)
1 tbls cacao butter (melted)
1 1/2 tbls cacao powder
For biscuits: 
2 cups spelt flour or organic plain + extra
½ cup coconut oil
½ cup rice malt syrup
1 egg
¼ cup almond milk
1 tsp vanilla extract or vanilla bean paste
2 tbls baking powder
½ tsp salt
METHOD
For Nutella:
Mix or blend all ingredients until Nutella texture is formed and put aside
For biscuits:
Preheat oven to 190°C and line baking tray.
In a mixer or large bowl, combine coconut oil and rice malt syrup, and then add almond milk, egg and vanilla.
In a separate large bowl mix flour, baking powder and salt together lightly
Add liquid mixture and stir lightly to a cookie-dough texture – you may need to add more flour if it is sticky
Using your fingers, roll mixture into small balls and place onto baking tray while pressing your thumb down on each cookie to form an oval shape. Add a spoon of Nutella in the centre of each cookie and place in the oven
Bake for 10 minutes and let cool! Enjoy!