A decadent combination, this Clean Raspberry + Dark Choc Cake is rich, sweet and sultry (reow). Maybe not quite sultry – I did though make it for a special occasion – my sister's Hens night. Safe to say, through the blurry-eyed women enjoying the celebrations, the cake was a hit. But it was the next day that I (by myself) truly inhaled the cake until it was totally gone.
The most impressive part of this dessert is the inside. Chunks of chocolate fill the spongey cake with tiny bits of dates bursting with flavour. Unfortunately in the photos it's hard to see this as I took the images on the night of the party therefore couldn't show you the inside – but trust me – it is impressive! Happy baking xx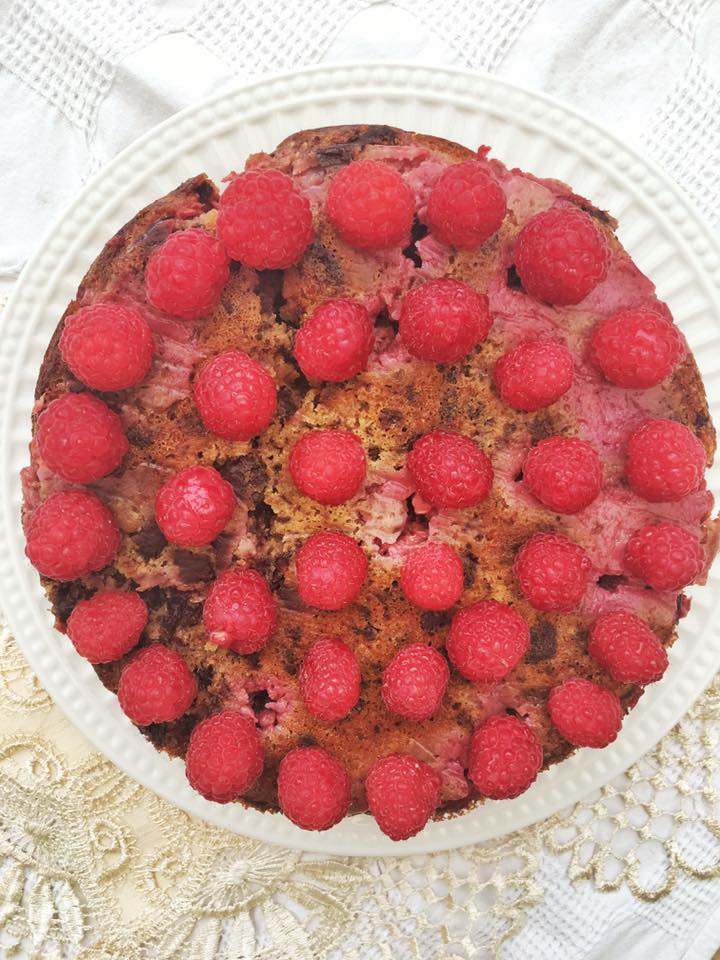 INGREDIENTS
4 punnets of raspberries
6 heaped tbls melted coconut oil
1/2 cup rice malt syrup
10 pitted dates, soaked and chopped
1 2/3 cup wholewheat or spelt flour (or flour of choice)
4 tsp baking powder
2 tsp vanilla bean paste
1 tsp cinnamon
70 – 90% dark chocolate chopped (I used The Source)
3 eggs
1 cup almond milk
METHOD
Preheat oven to 180°C (not fan forced). Line a circular baking pan with baking paper. Drizzle 3 tbls melted coconut oil on pan and place raspberries down until they cover the pan base (leave two punnets of raspberries for decoration).
In an electric mixer pour remaining coconut oil, rice malt syrup and vanilla and mix until creamy. Add one egg at a time to the mixture until combined.
In a large bowl sift flour, cinnamon and baking powder. Add liquid mixture and dates and fold through softly.
Add one cup of milk to the cake mixture and dark chocolate bits and mix lightly before pouring over the raspberries. Place in the oven for 40 – 50 minutes. Let cool and then flip over so there are pops of pink on the cake. Place fresh raspberries on top to serve. Enjoy!