Are you a Snickers lover? If you prefer a king size over a snack size… this is the recipe for you! I've made Snickers clean and WOW – it is good. Surprisingly the nougat is very simple to make and the whole bar only has 8 ingredients – yessss. No baking required, this vegan recipe is completely raw and delicious.
I decided to make this recipe after I had a few requests for it from friends. I hope you guys love this as much as you love sinking your teeth into a king size Snickers (and eating the whole thing). Now you can enjoy it without the guilt!
Happy baking x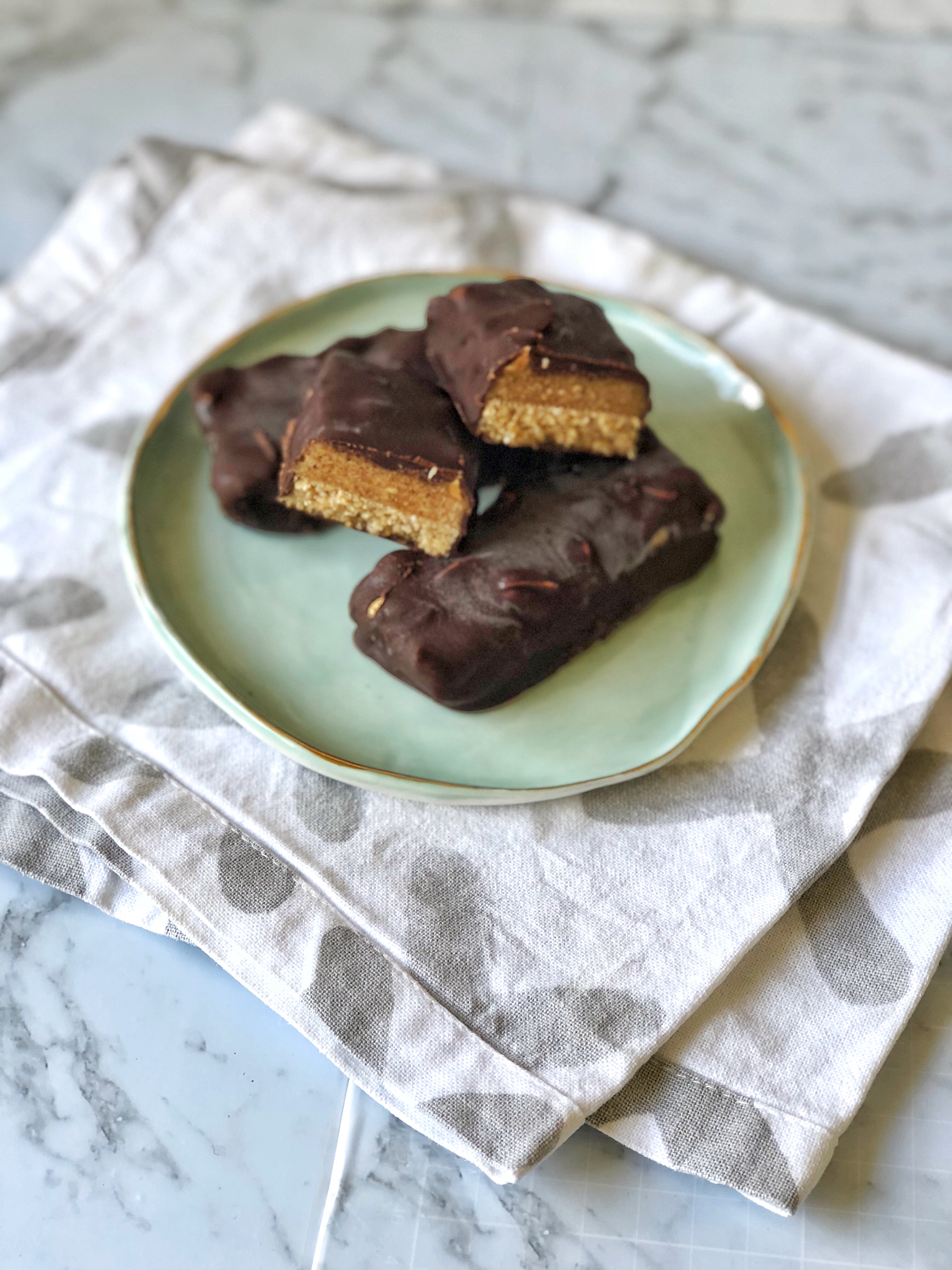 Ingredients
Nougat
1 cup rolled oats
3 tbsp rice malt syrup
2 tbsp peanut butter
Peanut caramel & chocolate
1/3 cup coconut oil melted
1/3 cup rice malt syrup
1/3 cup almond butter
1/3 cup roasted peanuts halved or crushed (in oven for 10 min)
Pinch of salt
100g 70% dark chocolate, melted
Method
For nougat:
Line a rectangle baking tray with baking paper.
Process all ingredients and place in baking tray. Flatten evenly with the back of a spoon and place in the freezer while you prepare the caramel.
For caramel and chocolate:
Combine coconut oil, rice malt syrup, almond butter and salt until a caramel texture is formed.
Pour over nougat and sprinkle roasted peanuts generously. Place back in the freezer for 20 minutes or until caramel is solid.
Remove from freezer, place on chopping board and cut evenly into large rectangle squares.
Add fresh baking paper to the baking tray for your Snickers bars.
Dip each Snickers bar into melted chocolate (add a bit of coconut oil if the chocolate seems thick) and coat it completely with chocolate. Add to baking tray and repeat this step until all your Snickers bars are complete. Place in the freezer for 20 minutes and enjoy!