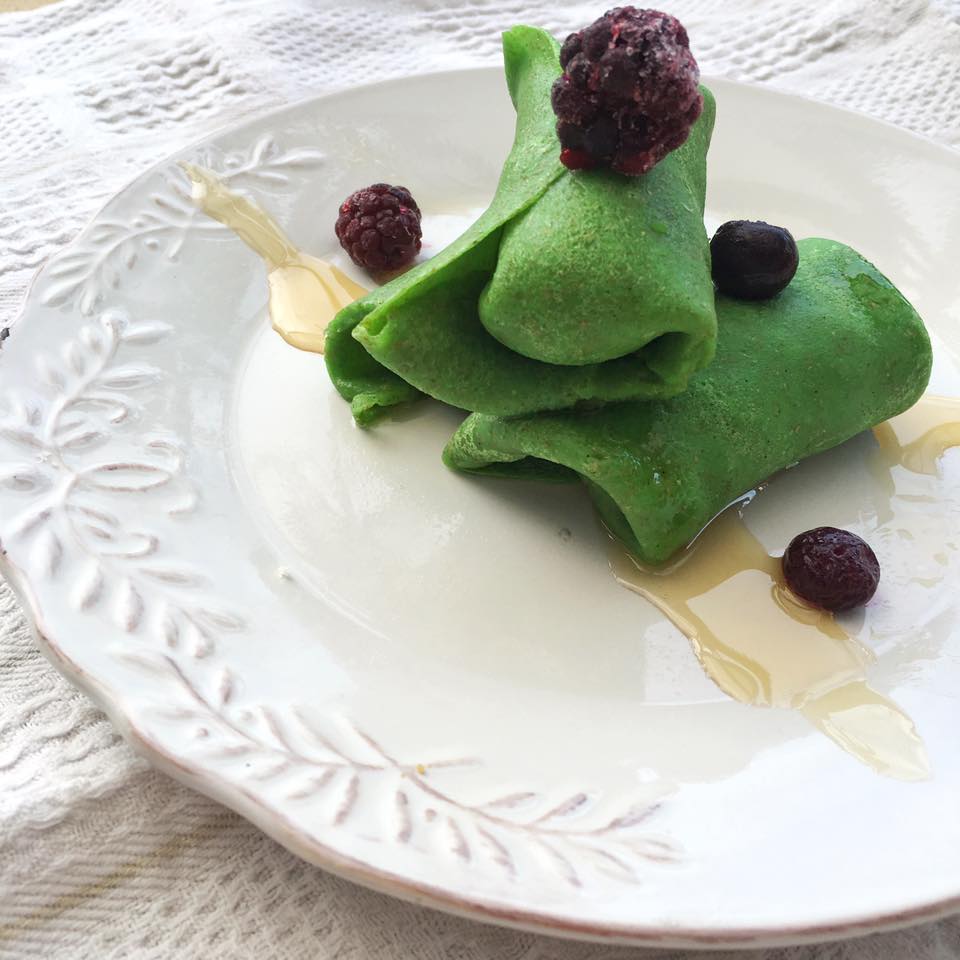 Ah, Bali… there is so much to love. I just returned a few days ago from the most relaxing trip with two of my girlfriends. We were so lucky to stay at one of the best hotels in Ubud, Komaneka Bisma. Nestled in the middle of the rainforest, Komaneka feels secluded from the hustle and bustle yet is still so close to the town (although we hardly left the hotel – it was too pretty!). The views from the hotel are absolutely breathtaking, but let's talk about the food, and in particular, this traditional Balinese dessert, Dadar Gulung.
My friends and I were so lucky to attend a private cooking class with Seneng Kitchen chef (the resident restaurant at Komaneka Bisma) Made, also known as the dadar gulung king. He taught us how to perfect the dessert – with rainforest views as our backdrop, of course. So, what exactly is dadar gulung? It is a rolled, sweet coconut crepe and one of the most popular snacks in Bali. Thank you so much to all of the Komaneka staff, I couldn't speak more highly of each and every one of them. And a special thank you to Made for teaching us how to make this delicious treat. Here's how to make it clean:
Ingredients
For Balinese unti (coconut filling):
200g shredded cocount
1/2 cup rice malt syrup
Pinch of salt
1/2 cup water
Pandanus leave (optional only – I did not use this)
For crepes:
110g wholegrain spelt flour
1/3 cup rice malt syrup
1 egg
50ml almond milk or coconut milk
Pinch of salt
250ml water
1 tsp vanilla essence
Drop of green food colouring
Coconut oil
Method
Balinese Unti:
Take a pan, place all ingredients in the pan and place on low heat. Stir well until the rice malt syrup has absorbed into the coconut and then cook on low for around 5 minutes then set aside
Crepes:
Mix all ingredients until well combined in a large bowl
Heat a medium frying pan and using a napkin, dip into melted coconut oil and smear in pan until covered. Pour one ladle batter in the pan as quickly as possible, tilting the pan in a circular motion until the batter covers the whole pan. Once the outside of the crepe starts to heat (this happens within seconds) with your fingers, lightly hold the end of the crepe and flip quickly. Repeat this step. The greener the crepe, the better your dadar gulung!
Spread out one crepe on a plate and and add one tablespoon of Balinese unti at the bottom of the crepe. Roll the crepe as tight as possible once and then pull both crepe sides into the middle and continue rolling. Repeat this step
Serve dadar gulung 2-3 per plate with fruits and rice malt syrup. Enjoy!