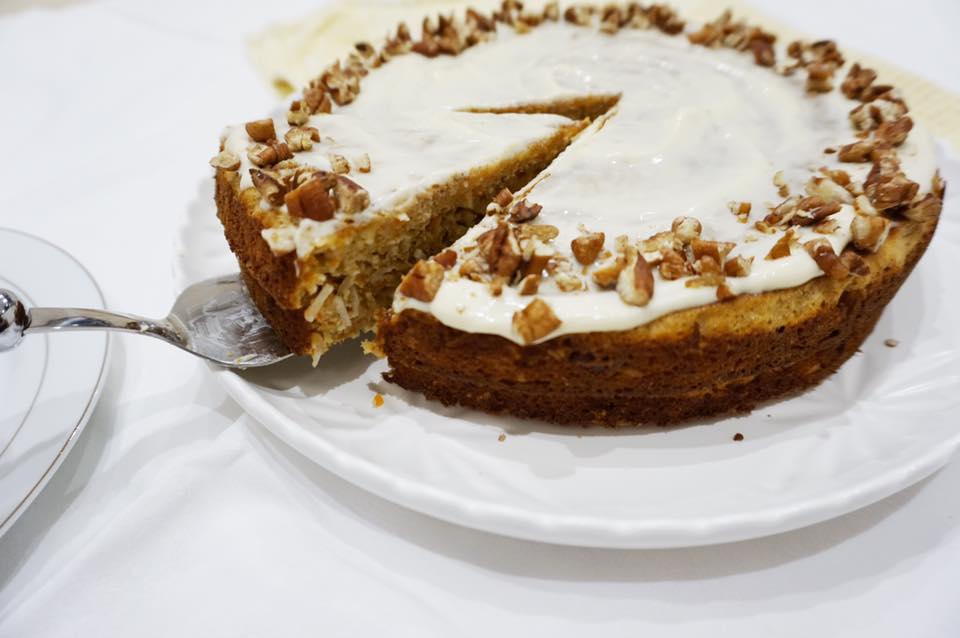 Before I give you this recipe, some of you may be wondering 'what's hummingbird?' one of the key ingredients is pineapple which makes it a little easier to guess it's origin – Jamaica! This clean hummingbird cake is similar to carrot cake (there are no birds involved – incase you were wondering), combined with spices like cinnamon and nutmeg, but with an additional pineapple twist!
The addition of pineapple means there's added sweetness and it pairs surprisingly well with carrot. Who would've thought?! I really love this recipe and think you all will too. You're welcome to add cream cheese as the frosting with rice malt syrup if you want the true hummingbird experience, but in my opinion it's just as nice with the vanilla cashew cream.
Happy baking! x
Ingredients
Hummingbird cake:
2 carrots, peeled and grated
1 cup canned pineapple, drained and thinly sliced
1 1/2 cups wholemeal flour
1 tsp bicarb soda
3 tsp baking powder
1 tsp mixed spice
1 tsp cinnamon
Pinch of salt
1/2 cup rice malt syrup
3/4 cup olive oil (you can also use coconut oil)
12 pitted dates, chopped finely
3 eggs
1 tsp vanilla bean paste (can also use vanilla essence)
1/2 cup chopped pecans (optional)
Cream:
1 cup cashews (soaked for 30 minutes in hot water)
1/2 cup rice malt syrup
2 tsp vanilla bean paste
Decoration:
1 cup chopped pecans
(Alternatively, you may also use cream cheese mixed with rice malt syrup for the topping)
Method
For hummingbird cake:
Preheat oven to 170C (not fan forced) and line two circular baking pans with baking paper
Combine all dry ingredients in a large bowl lightly and set aside
In a separate bowl, mix eggs, rice malt syrup, vanilla bean paste and olive oil until well combined
Make a well in the centre of dry ingredients and pour in liquid mixture. Mix lightly with wooden spoon and add dates, pineapple and carrot. Stir through lightly and pour half of the mixture into one baking pan and the remainder in the second baking pan. Place in the oven for 30 minutes. Let cool for 5 minutes and then transfer to wire rack to cool completely
For cream:
Blend all ingredients until a creamy texture is formed. Place in bowl and put in fridge for 5 – 10 minutes.
For decoration:
Spread half of the cream evenly over one cake half with a spoon.
Place the second cake half on top of the cream and repeat the first step with remaining cream
Sprinkle pecans on the outside of the cake or as desired
Enjoy!