Who knew apple and berries would be such a delicious combination? Definitely not me. On Saturday (aka my baking day) I had so many different ideas of what to bake and couldn't decide so I left it up to my mum… after all, it was Mother's Day the next day. She went through decade-old magazine cut-outs of sweet (sugary) treats and picked one she wanted me to make clean. It was an apple and berry slice. So I did!
This Clean Apple & Berry Slice is super easy and a perfect treat with a warm cup of tea. I was honestly so impressed by this combination that I can't wait to see what other flavours I can mix together. It looks like those decade-old magazine cut-outs are coming out more often!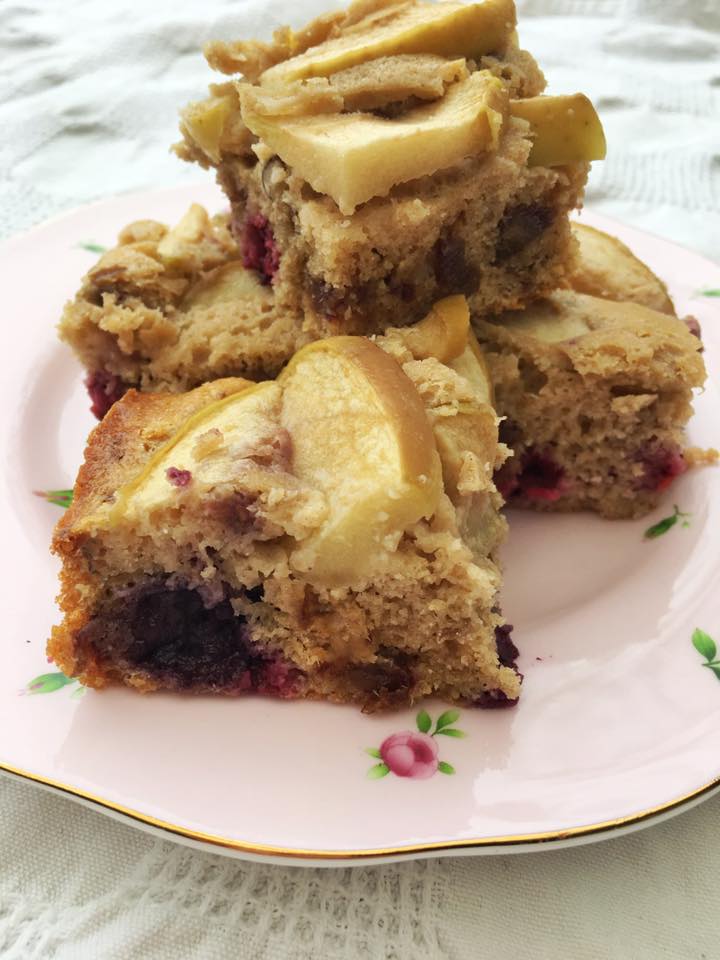 INGREDIENTS
3/4 cup mixed frozen berries
4 heaped tbls melted coconut oil
Pinch of salt
1/2 cup rice malt syrup
10 pitted dates, soaked and chopped
1 2/3 cup wholewheat or spelt flour (or flour of choice)
2 tsp baking powder
1 tsp vanilla bean paste
1 tsp cinnamon
3 eggs
1 cup almond milk
2 apples thinly sliced
METHOD
Preheat oven to 180°C (not fan forced). Line a medium rectangle baking pan with baking paper.
In an electric mixer pour remaining coconut oil, rice malt syrup, milk and vanilla and mix until creamy. Add one egg at a time to the mixture until combined.
In a large bowl mix flour, cinnamon and baking powder. Add liquid mixture, berries and dates and fold through softly.
Pour mixture into baking paper and carefully place an apple slice in the middle of the rectangle. Place one slice next to each other to form a circle and work from the centre in until the slice batter is covered with apple slices.
Place in the oven for 40 minutes. Let cool and serve!