Every year my family devours hot cross buns in the lead up to Easter. Although I love traditional hot cross buns, to me (and my chocolate addiction), nothing beats when you warm up a chocolate hot cross bun and bite into the gooey centre, with melted chocolate drizzling down your fingertips. And that is why this year I have decided to give the healthy hot cross buns a go – and they definitely taste like the real thing – without the guilt.
With only two days until Easter I won't take up any more of your time, hope you enjoy this yummy Easter treat! X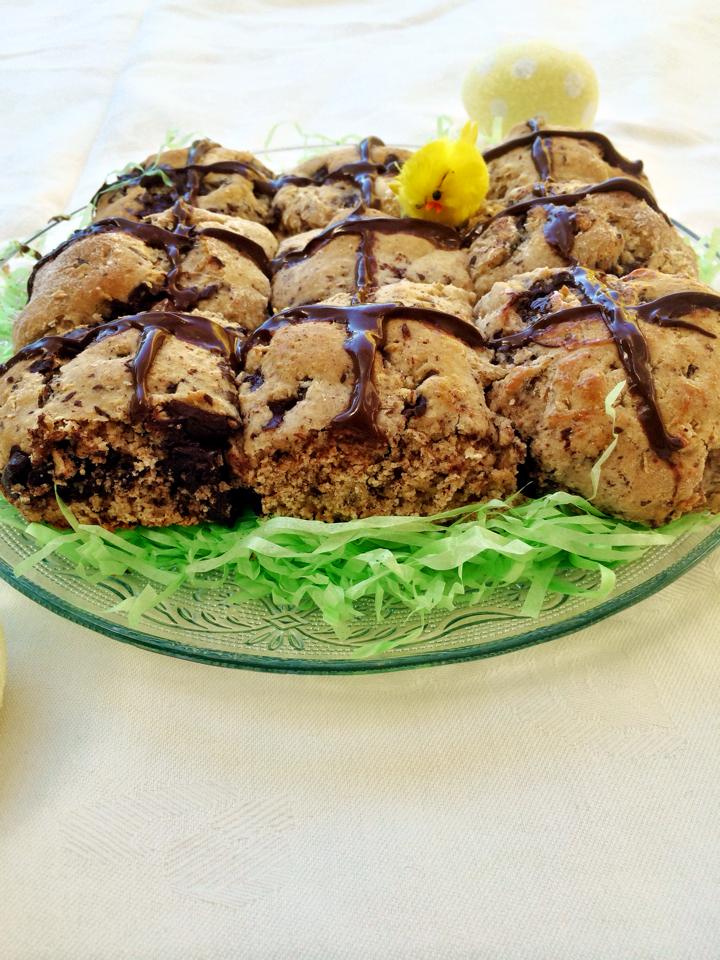 INGREDIENTS
2 cups whole grain flour (or flour of choice – if gluten, add extra milk and oil)
4 tsp baking powder
2 tsp cinnamon
2 tsp nutmeg
2 tsp baking powder
Pinch of salt
1/2 cup rice malt syrup
50 ml grape seed oil
2/3 cup almond milk (or milk of choice)
Organic dark chocolate chips or 70/90% cacao chocolate chopped
Sultanas (optional)
METHOD
Preheat oven to 180 degrees Celsius
Mix all dry ingredients in a large bowl (except chocolate and sultanas)
In a separate bowl, whisk wet ingredients until combined – ensuring rice malt syrup has completely mixed into the milk and oil. If you are using coconut oil, melt before adding
Make a well in the center of the bowl with dry ingredients and add in the liquid mixture. Combine lightly and add the chocolate and sultanas through
Pour a small amount of flour in your hands and pick up a small handful of mixture and roll into a ball. Place on a large tray lined with baking paper and repeat. Place the hot cross buns very close together with a small gap in between so when they rise they are connected (just like the real thing) 🙂 and place in the oven for 20 minutes
Melt some extra chocolate and drizzle slowly using a spoon in the shape of crosses and enjoy!