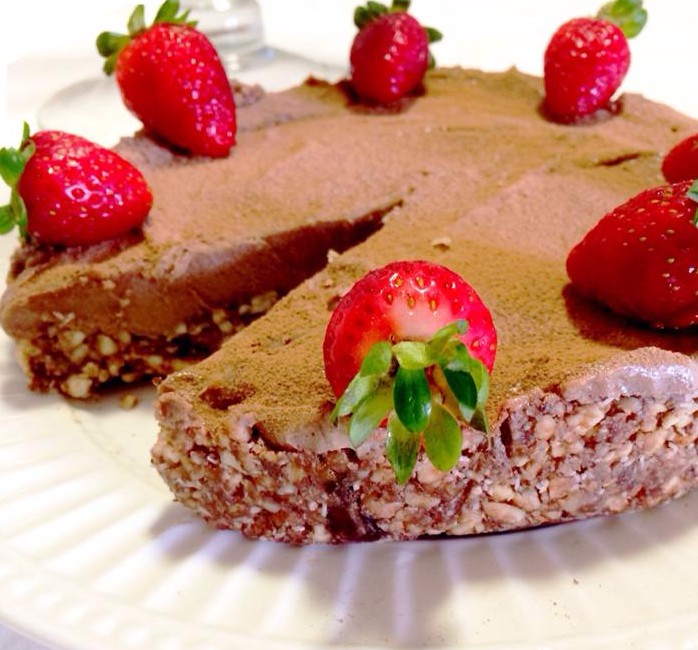 Years and years ago, I worked at a pie and cake shop with my uncle. Every day I would put glorious chocolate mousse cakes on display that were freshly made with plump strawberries placed neatly on the chocolaty surface. Those sugar-filled cakes were the inspiration behind this recipe. My clean chocolate mousse cake may not have a spongy texture, but it is just as satisfying and great for your heart and brain health (cashews and almonds are both are good sources of vitamin E)! Not to mention the mousse is super creamy and delicious! So I guess you can have your cake and eat it too (a piece or two… or three).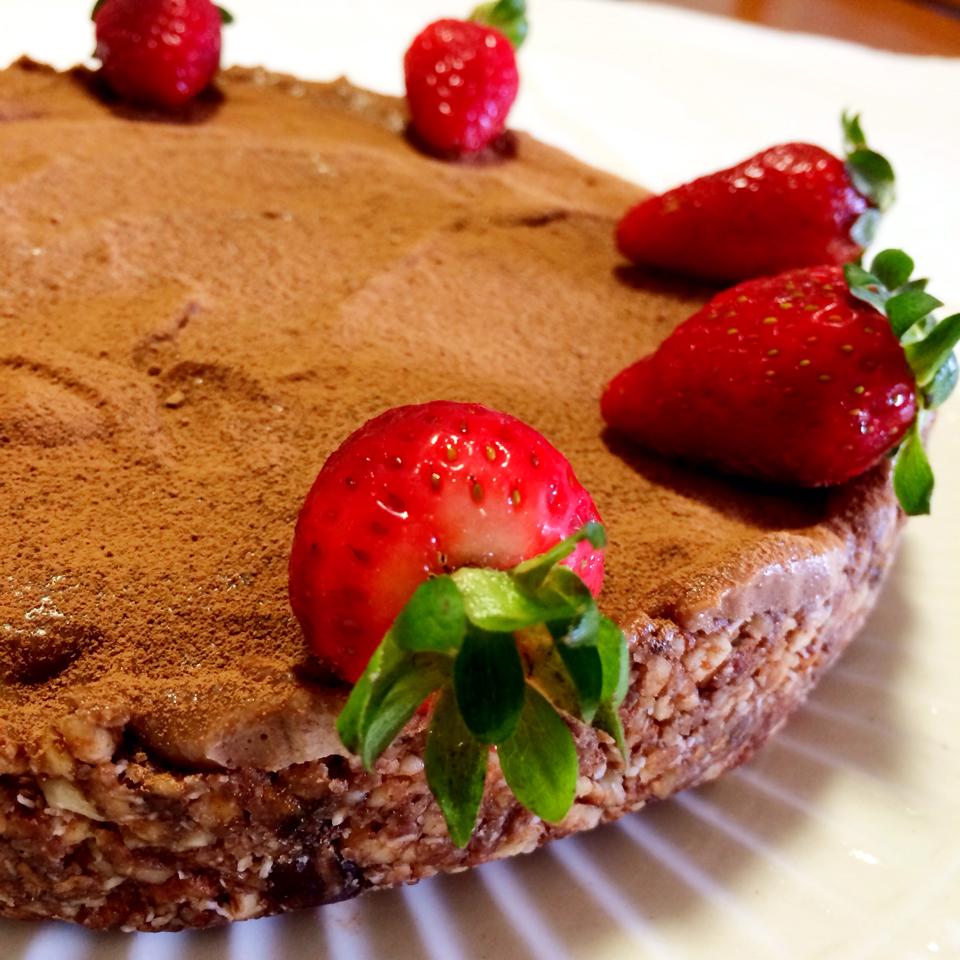 INGREDIENTS
Base:
2 cups almonds
1 cup dates
1/3 cup shredded coconut
2 tbls coconut oil
1 tbls rice malt syrup
1 tbls cocao
Chocolate Mousse:
2 cups cashews
2/3 cup coconut oil
½ cup coconut milk
2/3 cup rice malt syrup
1 ½ tbls cacao
1 tsp vanilla bean paste
½ cup water
Decoration:
5-6 strawberries
Cacao
METHOD
For base:
Soak dates in hot water for 5 minutes and then process until crushed.
Add almonds and process until  fine, add rest of ingredients and process until mixture is a little sticky.
Line a cake tin with baking paper and press down mixture with hands until even and pop in the freezer while you prepare the mousse.
For chocolate mousse:
Place all ingredients in blender and blend until there are no chunks of cashews left in the mousse.
Taste and add water if mousse needs a creamier texture or add extra rice malt syrup if you want the mousse a little sweeter.
Pour the mousse over the base evenly and pop in the freezer for around 2-3 hours.
Remove from freezer and sift cacao over the cake to decorate with the strawberries.
Let the cake sit for 15 minutes and cut up and serve!