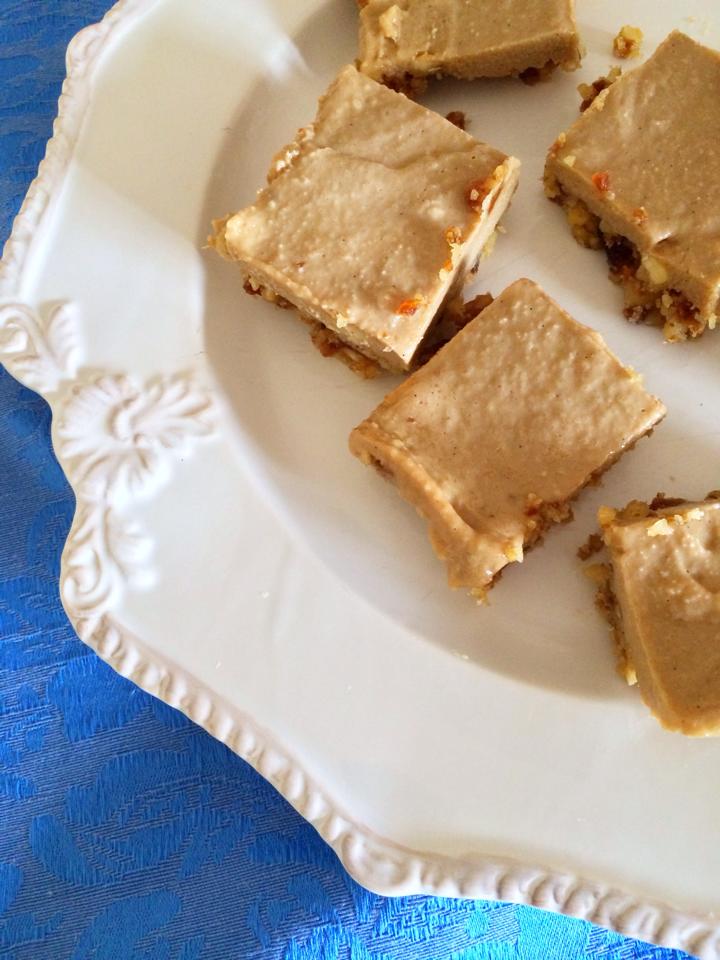 This is probably one of my favourite recipes. I literally cannot keep my hands off them. Between my mother and I, they are usually gone in less than 24 hours… eek. Seriously though, it is amazing what you can do with a couple of cups of cashews; once blended, the creamy texture that magically occurs makes you feel like you should be EXTREMELY guilty for eating. Especially when fresh coffee is blended through the cream….Mmm.   Buona Petite!
INGREDIENTS
Base:
2 cups walnuts
12 Dates
1 Tbs coconut oil
Coffee cream:
1 ½ cups cashews
2 Tbs coconut oil
½ cup almond milk (or coconut milk)
3 Tbs rice malt syrup
1 tsp vanilla bean paste
1 – 2 shots of espresso (or instant coffee)
METHOD
For base:
Soak dates for 5 minutes and process until fine with walnuts and coconut oil.
Line a baking tray with baking paper and spread mixture evenly and pop in the freezer while you prepare the coffee cream.
For coffee cream:
Blend all ingredients together until a creamy consistency. You may need to add extra milk or water while scraping the sides of blender to ensure there's no cashew chunks. Taste the cream and add more coffee or rice malt syrup if desired.
Remove base from freezer and pour coffee cream over evenly and place in freezer.
Remove after 3 hours and let sit for 15 minutes before serving. Store leftovers back in freezer. Enjoy!
*Recipe adapted from Nicole Joy's book Eat Dessert For Breakfast