As the cool Melbourne breeze sweeps the city, the desserts are becoming warmer and warmer… Ahh the joyous feeling when you curl up on the couch watching bad TV (Kardashians anyone?) with a cosy blanket, a cup of tea and a small sweet. It was 25 degrees in Melbourne today so I may be getting ahead of myself, but I'm sure the chilly nights will be occurring soon enough! And I am definitely well prepared with this delectable banana bread recipe. Toasted or fresh, the banana bread is subtly sweet with a light and fluffy texture – PERFECT with your tea or coffee in the morning, or after a hearty dinner. Trust me, I was picking at the loaf before it had a chance to cool down, and the recipe is super easy – tick!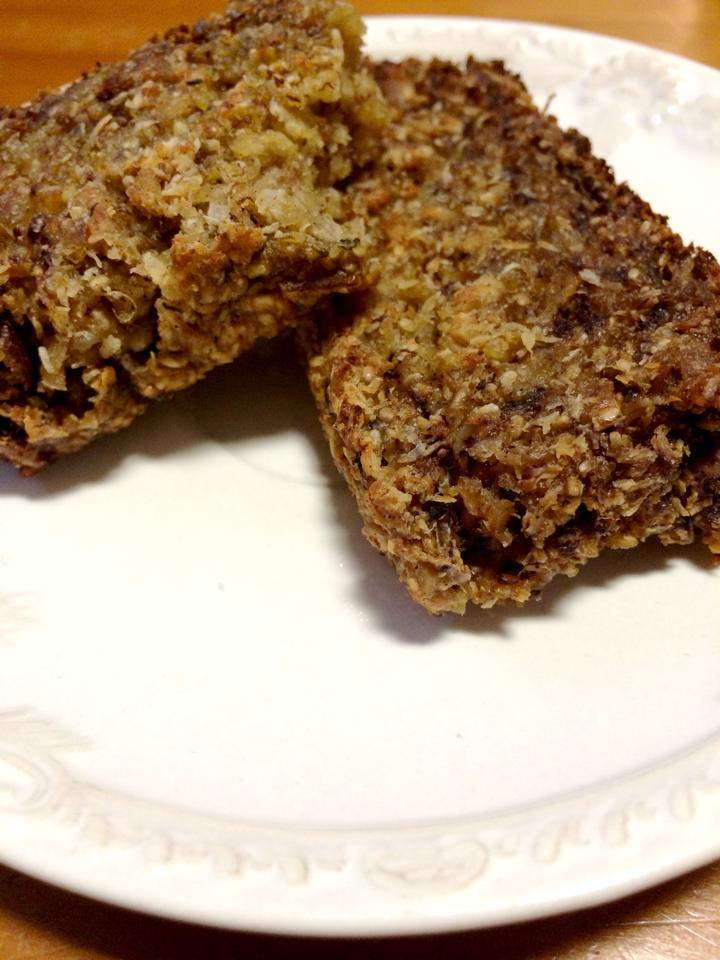 INGREDIENTS
1 cup rolled oats
1 ¼ cup almond milk
1 cup desiccated coconut
2 eggs (optional)
2 bananas mashed
7-8 dates
½ cup rice malt syrup
4 tbls chia seeds
1 tsp vanilla bean paste
¼ cup water
walnuts (optional)
METHOD
Preheat oven to 170°C and line a rectangular baking pan with baking paper.
Process oats, coconut and chia seeds to a powdery texture to make oat/coconut flour.
In a mixer (or large bowl) mix the flour through while adding almond milk and eggs in alternating batches.
Place dates in a pot with about ¼ cup of water on medium heat and mash dates to form a thick liquid.
Add mashed dates, mashed bananas, rice malt syrup and vanilla to mixture and combine well. If mixture is too thick feel free to add a tablespoon or two of almond milk or water.
Pour mixture into baking pan and place in oven for around 35 – 40 minutes.
Let cool and either toast or serve fresh with a warm drink and enjoy!