We all wish we could eat rocky road every day of the week – well at least I do. We also wish we could indulge in cake every day of the week (again, referring to myself – I assume I'm not alone on this one?) so I decided to put the two together for one very decadent dessert.
This clean rocky road inspired cake was made for those nights where you feel like being naughty, but don't exactly want an unhealthy rocky road slice – think sugary chocolate and lollies. Instead you can have your cake AND rocky road, without the guilt. Or maybe you just want a healthier version of rocky road.  Enjoy!
Jess xx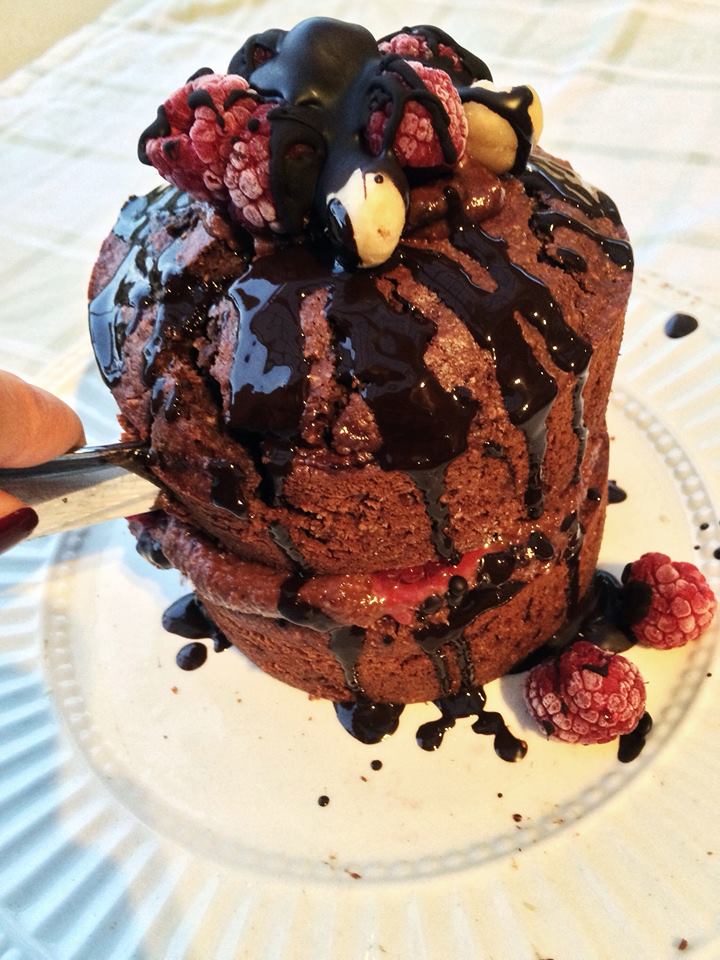 INGREDIENTS
Chocolate Cake:
2 cups wholemeal flour
4 tsp baking powder
1/2 cup cacao powder
1/2 large block of 90% dark chocolate melted
3/4 cup rice malt syrup
2 eggs
1 cup milk of choice
1 tsp vanilla essence
1/4 cup olive oil
1/3 cup raspberries
Chocolate cream:
1 cup soaked cashews (soaked for 30 min – 1 hour)
3 tbls cacao powder
3 tbls rice malt syrup
1/4 cup shredded coconut
Decoration:
Fresh raspberries
Macadamia nuts chopped
Melted dark chocolate
METHOD
For cake:
• Preheat oven to 180 degrees Celsius and spray two medium sized circular baking pans (same size) with baking spray. Alternatively, you could use one baking pan and cut the cake through the middle to add the cream.
• In a large bowl, combine all dry ingredients (flour, baking powder, cacao) lightly
• Using a separate bowl, mix all liquid ingredients together leaving the raspberries aside. Ensure to melt the dark chocolate before adding to the bowl.
• Make a well in the centre of the bowl with the dry ingredients and add the liquid mixture. Mix lightly until combined and then stir through the raspberries.
• Pour cake mixture into the two pans evenly and pop in the oven for 25-30 minutes. You may have some mixture left over so feel free to make some extra cupcakes! When the cakes are ready, let cool while you prepare the cream
For cream:
• Blend all ingredients in blender until combined well and set aside
For decoration:
• Once cakes are cool, ensure they are the same size (you may need to cut the top of one so it is flat). Smear the chocolate cream over the top of the cake with the flat top. Add raspberries and macadamias on top and then place the other cake over the cream to create a double layer.
• Melt dark chocolate and pour a 'blob' on the top of the second tier. Place raspberries and macadamias on top straight away so they stick in place when the chocolate hardens. Drizzle dark chocolate down the sides of the cake, serve and enjoy!