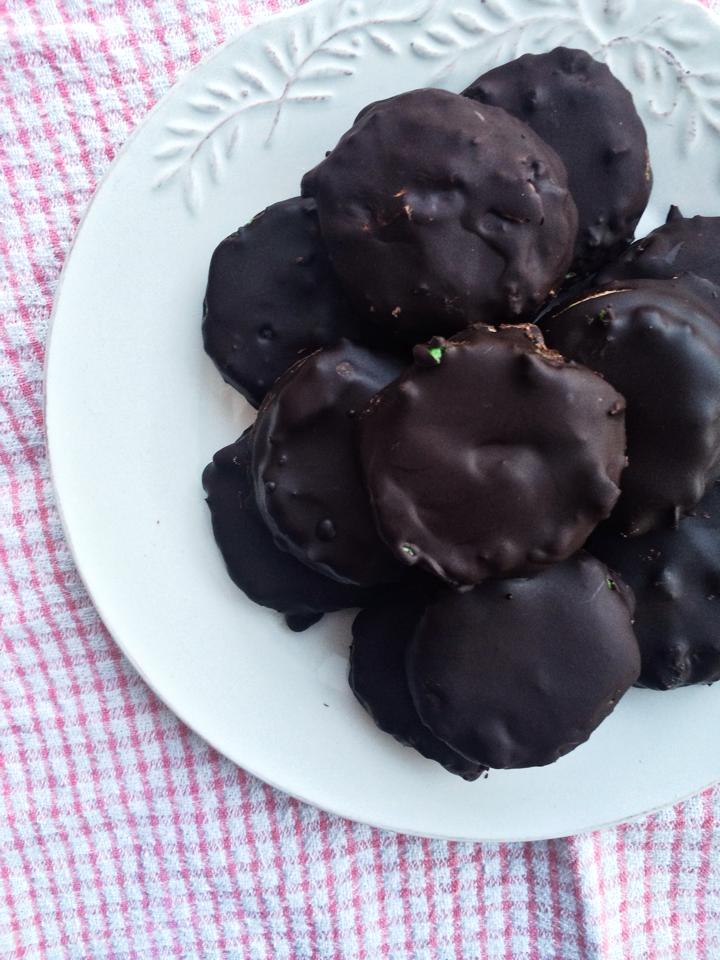 As most of you may know, the aim of My Clean Treats is to recreate my favourite desserts with healthy ingredients. It's difficult when you crave something sweet and know it will do more bad than good for your body. Life is about enjoying – so why give up dessert? Since as long as I can remember, my grandparents would often open a packet of Arnott's Mint Slice after a big Italian feast. To this day, it is still hard for me to say 'no' when offered one of these yummy biscuits.
Enough about my love of the biscuits. Today, I decided if I want to enjoy an Arnott's Mint Slice – I can! And that is exactly what I did, all 'clean' of course. This recipe may be a little trickier than the others, but once you taste the finished result and see 24, lovely-looking chocolate biscuits in front of you – you'll be happy you went the extra mile. Enjoy!
INGREDIENTS
Biscuit base:
2 cups whole-wheat or wholemeal flour
1/2 cup coconut oil
1/4 cup NatVia (stevia) or 1/2 cup rice malt syrup
¼ cup almond milk
1 tsp vanilla extract
2 tsp baking powder
1/4 cup cacao powder
Mint filling: 
1 cup cashews (soaked for 20 minutes)
2 tsp peppermint essence
2 tbls rice malt syrup
¼ cup shredded coconut
Drop of green food colouring
Dash of milk if needed
Chocolate coating:
90% dark chocolate or organic dark chocolate (I used Lindt)
METHOD
For biscuit base:
Preheat oven to 190°C and line baking tray.
In a mixer or large bowl, combine coconut oil and rice malt syrup, and then add almond milk and vanilla.
In a separate large bowl mix flour, baking powder and cacao powder together lightly and pour into large bowl with wet ingredients.
Mix thoroughly to a cookie-dough texture and then roll the dough using a rolling pin. Once the dough is flat and even, use a small, circular cookie-cutter to shape the biscuits. It will make around 24.
Bake for 10 minutes and let cool while you prepare the mint cream.
For mint cream:
Place all ingredients in blender until a smooth, cream-like texture. This may take a few bursts. Add a dash of milk if needed.
Once biscuits are cool, use a teaspoon to distribute the cream over the top of the biscuit base. Ensure to spread the cream evenly across each one and place in the freezer for 30 minutes.
For chocolate coating:
Melt dark chocolate and remove the biscuits from the freezer. Drop each one into the melted chocolate or use a spoon to cover the entire biscuits – top to bottom. The chocolate will begin to harden straight away.
Once all are coated, place back in freezer for 30 minutes and then store in the fridge. Enjoy!