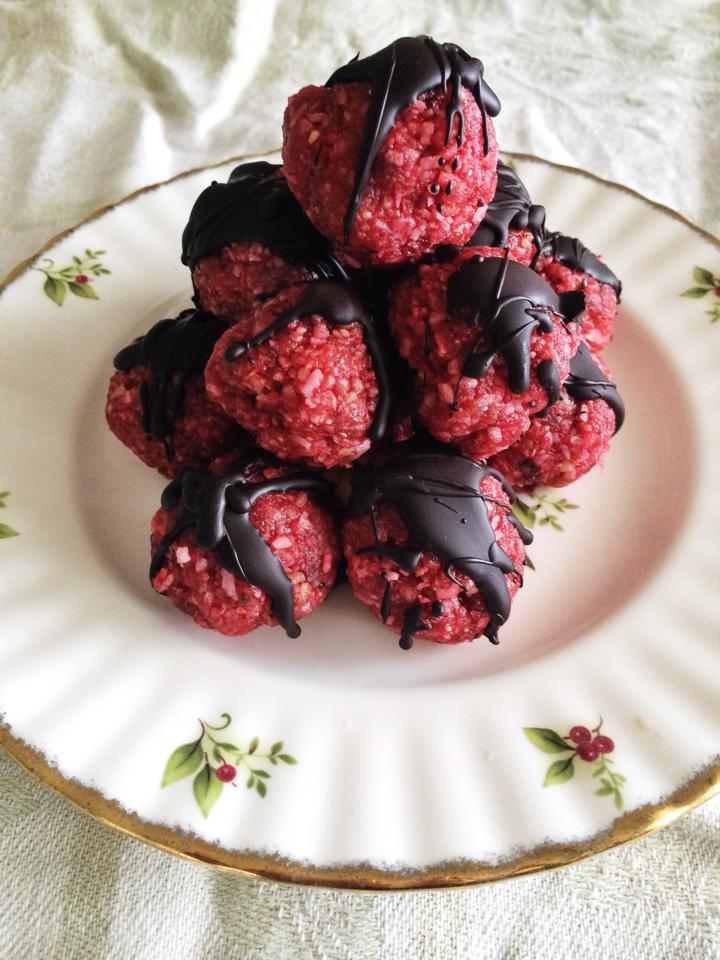 Don't you love biting into a rich, dark chocolate cherry ripe after a hearty dinner? The combination of bitter dark chocolate and sweet cherries is deliciously decadent and perfect for enjoying in front of the fire on a chilly night. My Dad has always been a big fan of Cadbury's Cherry Ripe so I was excited to hear his opinion on my healthy take of the famous chocolate indulgence.
Cherry ripes are quite rich so it may be difficult to finish the whole bar – that's why I created healthy Cherry Ripe Bites so if you want to stop at just one, you can. These bites have all the key ingredients of the real cherry ripe; dark chocolate, cherries and coconut – what more could you ask for? Oh, and they are definitely approved by Dad (they were all gone within a few hours). Enjoy!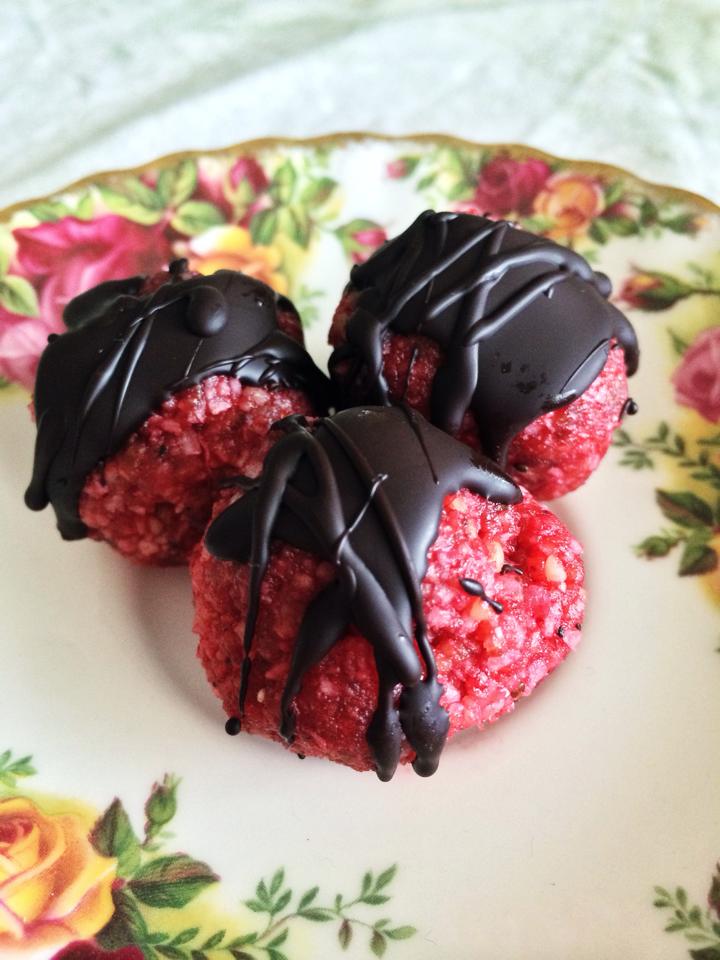 INGREDIENTS
1 cup walnuts
7 pitted dates
1 1/2 cup shredded coconut
2 tsp cherry essence or 150g fresh (or glazed) cherries
1.5 tbls rice malt syrup
1 tsp vanilla essence
90% dark chocolate to decorate (I used Lindt)
Optional if needed: red food colouring
METHOD
Soak dates in hot water for 2-3 minutes.
Process walnuts until fine and then add dates. Add remaining ingredients except dark chocolate and process well until mixture sticks together.
Spray a small baking pan with baking spray and roll mixture evenly into round balls with your hands.
Melt dark chocolate and dab a small amount on each ball allowing it to drizzle down the ball. Pop in the freezer to let the chocolate harden for a few minutes. With the remainder of the dark chocolate, using a teaspoon drizzle it quickly over each of the bites to create the squiggly texture over the top.
Pop back in the freezer for around 10-20 minutes and then let sit and store in the fridge – enjoy!