Mmm Anzac Day biscuits – crunchy on the outside and chewy on the inside.  My Mother makes Anzac Day biscuits on a regular basis and I have been reminding myself to attempt a healthy recipe for a while. Since Anzac Day is coming up I figured it would be the perfect opportunity. And the result? Success! I adapted the recipe from I Quit Sugar and am very pleased with the result.
You would never know these are a 'clean' Anzac Day biscuit as the taste and texture is just as perfect as one filled with butter and sugars. They also leave a beautiful scent in your kitchen whilst baking in the oven.  Grab one with your cup of tea and enjoy!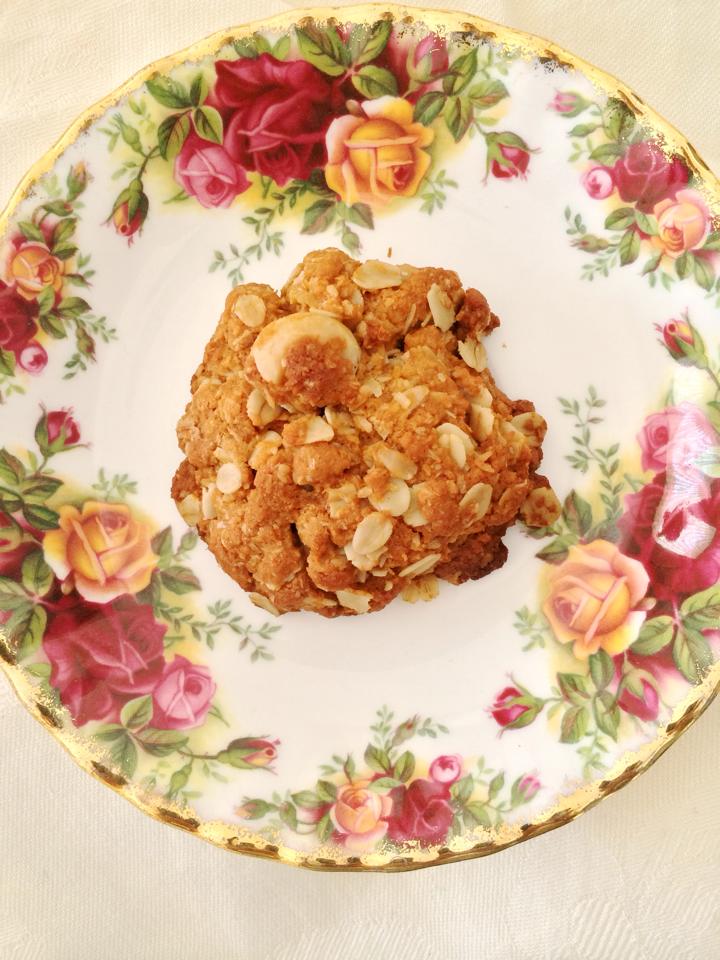 INGREDIENTS
½ cup coconut oil or coconut butter
1/2 cup rice malt syrup
Pinch of salt
1 ½ tsp baking soda
4 tbls boiling water
1 cup rolled oats
¾ cups desiccated coconut
3/4 cup whole wheat or wholemeal flour
2 tsp baking powder
½ cup macadamias (optional)
Drizzle of organic dark chocolate (optional)
METHOD
Preheat oven to 150

°C 

and spray baking trays with baking spray.
Pop a small pot on low heat and place rice malt syrup and coconut oil inside until both have melted into a liquid and add a pinch of salt.
Combine baking soda with boiling water and add to the pot and stir through – the mixture will start to bubble.
In a large bowl, place remaining ingredients inside and mix well.
Pour the liquid mixture into the large bowl with dry ingredients and combine well.
Roll 1 teaspoon of mixture into a ball and place on tray and flatten lightly.
Place baking tray in oven for 20 minutes and let cool. Serve with a warm cuppa and enjoy!