'Tis the season! Well, nearly. To celebrate the holidays I've teamed up with Krumbled Foods to make these ADORABLE clean Christmas Krumball Snowmen Cupcakes! These are the perfect silly season treat and are SO YUMMY! Happy baking xx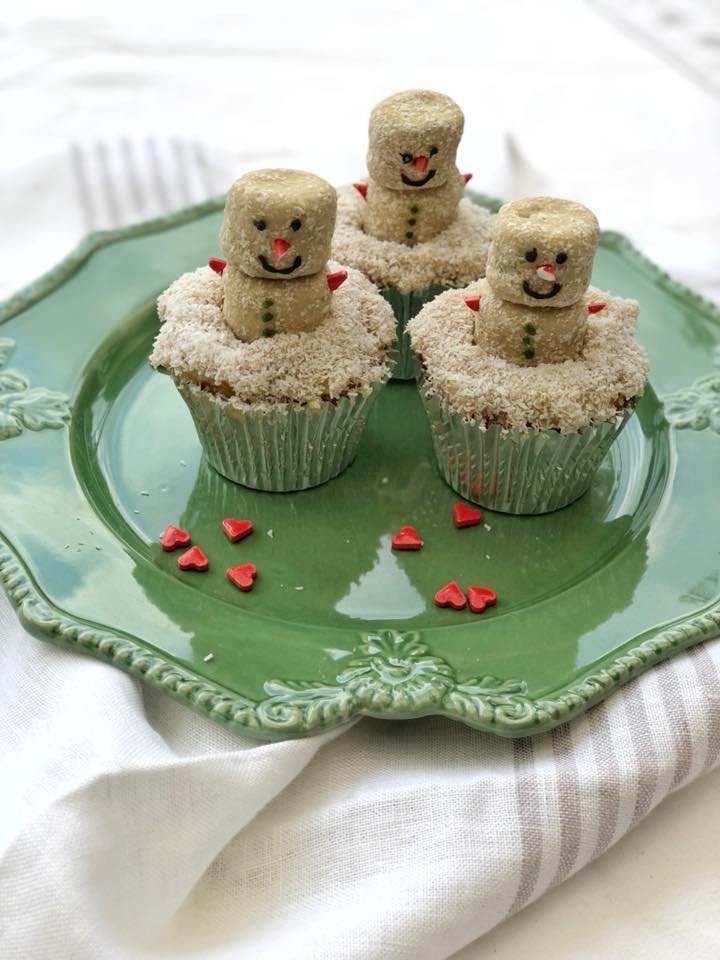 Ingredients
3 heaped tbsp organic butter or coconut oil
1 1/2 cups rice malt syrup
2 tsp vanilla bean paste
4 eggs
2 3/4 cups spelt flour
2 tsp baking powder
1 cup almond milk
Cream:
1 cup cashews
2/3 cup desiccated coconut
2/3 cup rice malt syrup
1 tsp vanilla bean paste
Snowmen:
Coconut and strawberry Krumballs
Colourful icing or edible decorations
Desiccated coconut 2 cups
1 tbsp melted chocolate
Method
For cupcakes:
Preheat oven to 180 and line cupcake tray with patty cases.
In an electric mixer beat butter, rice malt syrup and vanilla bean paste. Then add one egg at a time and continue beating.
In a separate large bowl combine flour and baking powder. Then add to wet ingredients and fold. Add milk through lightly and continue folding.
Pour batter into patty cases and bake for 20 minutes and set aside.
For cream:
Blend all ingredients until combined
For decoration:
Cut a small circle in the middle of the cupcake and spread cream evenly over each cupcake then dip in coconut to look like snow.
Dab dark chocolate onto one Krumball and place another Krumball on top to make the shape of a snowman. Repeat this step.
Decorate the Krumball snowmen as desired and place ontop of cupcake.
Enjoy!